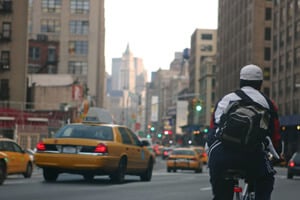 New York City Council Proposes a New Bill to Improve Bicycle Messenger Safety
Throughout the five boroughs, many businesses and delivery services rely on bicycle messengers to deliver goods, given that bike messengers can often deliver products more rapidly than automobile drivers and without the costs associated with gas. However, it can be difficult for New York drivers to see bike messengers, and bicycle accidents often occur. A newly proposed City Council bill aims to make this kind of job safer, according to a recent article in the New York Daily News.
What would the new law change in order to improve bike accident safety? The law would require that restaurants, courier services, and anyone else employing bike messengers as contractors to "provide safety gear, vests with a business name, and safety training." In addition, bike messengers working for such on-demand businesses would also have to have an individual ID card with a photo and an ID number. Uber messengers, too, could be impacted by the new law. Why would Uber be affected? Uber is no longer just a car-service company. It currently also offers services for which it employs bike messengers, including UberEATS and UberRUSH (food delivery and courier services, respectively).
As Councilman Jimmy Van Bramer explained, "I don't think people know or care if it's Uber or Joe's Pizzaria . . . .  They want to make sure they can see them, and I want to make sure that they're all safe." Van Bramer drafted the legislation. As Van Bramer clarified, "small mom-and-pop stores, restaurants, cafes have to have these vests and helmets, but these larger corporations that work with independent contractors do not."
Currently there are hundreds of bicycle messengers working for large companies who do not have to wear safety gear. For its food delivery and courier services alone, Uber employs about 600 bike messengers. The legislation aims to make bicycling safer in the city, particularly for employees of major companies like Uber.
Preventing Bicycle Accidents and Injuries
It is extremely important to have laws in place to protect bicycle messengers from preventable accidents. At the same time, all bicyclists should understand significant safety tips to keep them safe while they are on the road. A checklist from the National Highway Traffic Safety Administration (NHTSA) recommends the following:
Get experience riding your bicycle before riding in city traffic.
Purchase a bicycle that fits your size because larger bikes (especially those that are too big for you) can be more difficult to control.
Always ride a functional and well-maintained bicycle.
Wear protective equipment, including a helmet and reflective gear.
Plan out your bicycle route before you head out, and choose routes with less traffic and/or bicycle lanes wherever possible.
Always be aware of other drivers on the road.
Ride your bike with the flow of traffic, and obey all street signs and other road markings (as if you were driving a car).
Avoid (or at least minimize) riding on the sidewalk to prevent a serious pedestrian accident.
If you or someone you love sustained an injury in a bicycle accident, contact an experienced accident lawyer to learn more about your rights.