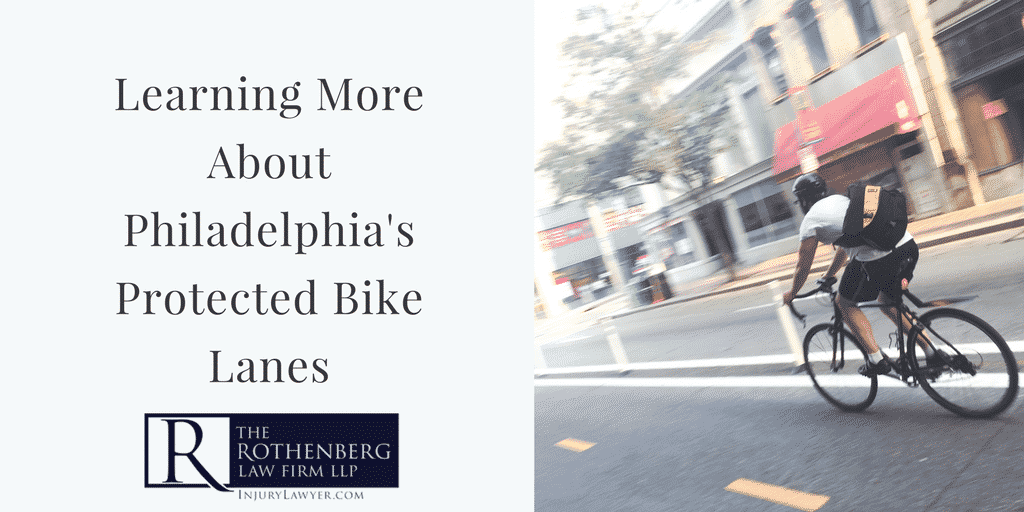 Protected Bike Lanes Could Prevent Accidents in Philadelphia
Motor vehicle collisions happen more often than they should in Philadelphia, and cyclists often get hurt in a bicycle accident because of a driver's negligent or careless behavior. According to a recent article in The Inquirer, protected bike lanes "have an effect on road safety for everyone." In Philadelphia, protected bike lanes are those that have "some physical obstacle between automobile lanes and bicycles lanes." For most protected bike lanes in the city, that means "flexible posts," but other obstacles that can separate bicycles from cars include parked vehicles and even planters.
Given that protected bike lanes improve safety, there may be a need to create more of them in Philadelphia. Currently, there are "not many" in the city, especially in relation to the number of cyclists. Approximately 200 miles of streets in Philadelphia currently have bike lanes, but only about 2.5 miles of that total are protected lanes with physical barriers. The rest simply have a painted line that seeks to separate bicycles from cars. However, there may be opportunities to increase the number of protected lanes in the city. Philadelphia recently received a grant of $250,000 for this very purpose, which raises the city's total budget for developing protected bike lanes to about $550,000. In total, that money will allow the city to create approximately 25 additional miles of protected bike lanes.
Safety Tips for City Bicycling
 Until more protected bike lanes are constructed in Philadelphia, how can cyclists stay safe while sharing the road with motor vehicles? The following safety tips come from the National Safety Council (NSC):
Know traffic laws and follow them!
When you are riding your bike on the street, you are more like a motorist than a pedestrian;
Understand the capacities and limits of your bicycle;
Always ride in the direction of traffic and use hand signals to indicate turning or changing lanes;
Wear brightly colored clothing during the day;
Try to avoid riding your bicycle at night, but if you need to do so, wear reflective clothing;
Equip your bicycle with reflectors on the front of your bike, the rear of your bike, and also on your pedals and spokes;
Use a rear-view mirror, just as you would in a motor vehicle; and
If you ride at night, install a bright headlight on your bicycle.
In the unfortunate event that you were injured in a bicycle collision, contact a bicycle accident lawyer to determine your rights.