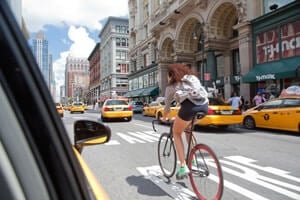 NYPD Focuses on Bike Lane Violations in All 77 Precincts
If you are driving in New York City, it is important to be aware of bicycle safety laws and your role in preventing serious bicycle accidents. According to a recent article in ABC 7 News, the NYPD has recently begun to target drivers who violate bike lane laws. Indeed, the article emphasizes that police officers have started a "crackdown in all 77 precincts on drivers who do not play by the rules." The recent efforts to improve bicycle safety are part of the Vision Zero road safety initiative. As part of Vision Zero, "Bicycle Safe Passage" is an initiative that is "about keeping the bike lanes open and safe for all concerned."
Summer in New York means warmer weather and more cyclists on the streets and the NYPD wants to ensure that bicycle riders are safe. According to the article, New York City residents, on average, "make more than 400,000 cycling trips each day," and that is a number that has "more than tripled" since the year 2000. Therefore, the NYPD will be looking for traffic violations that could result in a bicycle accident, like parking violations in which vehicles block bike lanes or moving violations in which cars illegally travel into bike lanes.
While the main focus of "Bicycle Safe Passage" is on drivers who violate bike lane laws and who fail to share the road with cyclists, the article notes that riders themselves need to pay attention to safety as well. Specifically, bicyclists, like automobile drivers, need to "follow the rules of the road," and it is important for cyclists to wear helmets to help limit the risk of a serious brain injury in the event of a bike accident.
New York City has expanded its "on-street bicycle network" immensely over the last few years, and there are currently "more than 40 protected lane miles" throughout the city. Furthermore, the construction of more protected lanes has been planned for this year.
Bicycle Safety Tips 
As mentioned above, it is important for bicyclists to think about their safety when they are on the road. The League of American Bicyclists provides a safety tip sheet for cyclists who ride in city bike lanes and on city streets:
Always follow the law. As a cyclists on the road, you are more like a car driver than a pedestrian. As such, cyclists must "obey traffic signals and stop signs," and you should always "ride with traffic."
Make your riding intentions clear to other drivers by signaling, and do not swerve between cars.
Make yourself visible to other drivers by wearing bright-colored clothing, installing lights on your bicycle, and making eye contact with drivers.
Keep a watchful eye for road hazards, such as pedestrians, potholes, or debris.
Ensure that your bicycle is road-ready, meaning that your brakes work properly and your tires have sufficient air.
Hopefully, the NYPD's efforts will help create a safer environment for bicyclists. However, in the event that you were injured as a result of a bicycle accident, contact an experienced bicycle accident lawyer to determine your rights.