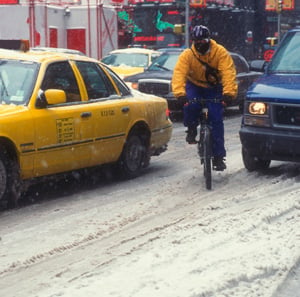 Bicycle Injuries Rise as More Adults Choose Cycling for Transportation
According to a recent article from National Public Radio, more adults than ever are choosing cycling as a mode of transportation. While bicycling can be an excellent way to stay healthy and to help the environment, more cycling also means more bicycle accidents.
Between 1998 and 2013, "hospital admissions because of bike injuries more than doubled," reported a recent study in JAMA. While statistics from previous years suggested that younger people were at greater risk of sustaining injuries in a bicycle crash (younger adults tended to make up the age group on bicycles most often), the study from the American Medical Association made clear that riders aged 45 and over now have the highest risk of suffering injuries in a bicycle collision.
The study was conducted by Dr. Benjamin Breyer and a team of researchers at the University of California, San Francisco. As Dr. Breyer explained, "There are just more people riding and getting injured in that age group." He implied that the reason for more riders aged 45 and over is something known as the "Lance Armstrong effect." Following Lance Armstrong's successes, more adults between the ages of 35 and 54 took up cycling as a sport, a mode of transportation, and as a weekend pastime.
Making Bicycling Safer
Just how large is the bicycle accident problem in the US? According to a fact sheet from the Centers for Disease Control and Prevention (CDC), the following statistics make clear the need to emphasize safe cycling:
Cyclists are at a significantly greater risk of a crash-related injury or fatality than vehicle occupants.
In 2013 alone, more than 900 bicyclists died in preventable accidents and nearly 500,000 cyclists required treatment in an emergency department.
What can we do to make bicycling safer for cyclists of all ages? The NPR article cited above points out several primary areas in which cycling could be a safer activity and mode of transportation:
Requiring cyclists to wear a helmet and reflective clothing or gear;
Requiring cyclists to install lights on their bicycles if they are riding at night;
Encouraging cyclists to learn to ride defensively; and
Facilitating changes in urban planning and road design to ensure that cyclists have a safe space in which to ride.