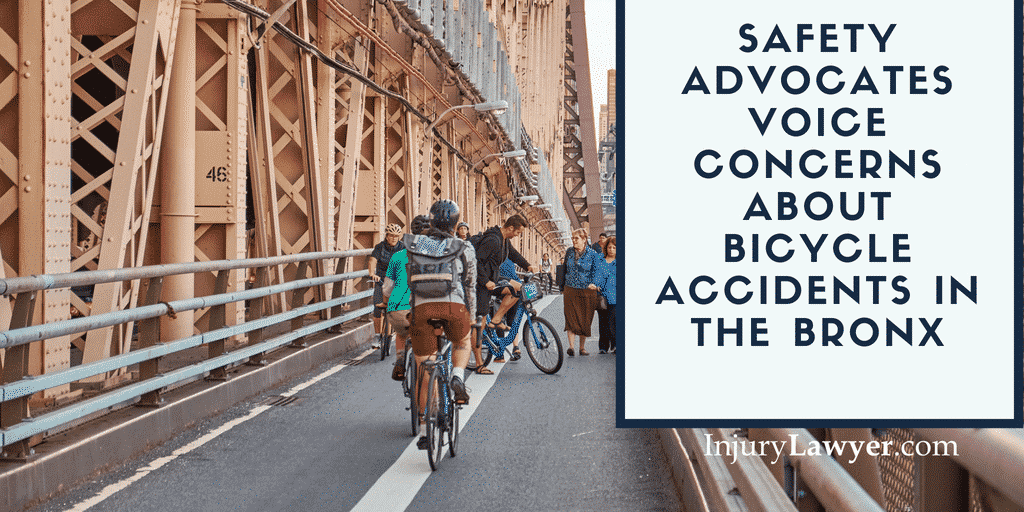 Is the Vision Zero Initiative Paying Enough Attention to the Bronx in Preventing Personal Injury Accidents While Biking?
If you know anything about New York's Vision Zero initiative, you know this is a large-scale program that is designed to reduce (and ultimately eliminate) traffic fatalities, including deadly bicycle accidents and pedestrian personal injury accidents. But is it working, and is it working equally across the boroughs in New York? According to a recent article in AM New York, some transportation advocates are voicing concerns about whether Vision Zero Initiatives have focused sufficiently on the Bronx and cyclist safety concerns.
In April 2018, at least three bicycle crashes occurred in the Bronx in a single day, and two of those accidents resulted in the deaths of the cyclists. According to Paul Steely White, who serves as executive director of Transportation Alternatives, all three of those personal injury accidents were preventable. As White clarified in a statement following the crashes, "too many dead, too many injured, too much traffic violence for any one borough to bear," particularly when the deaths were avoidable.
One of the deadly crashes involved an 8-year-old bicyclist who was struck by a minivan that was attempting to parallel park near the Williamsburg bridge in the early hours of the evening. According to the article, the driver "lost control and the van jumped the curb, pinning [the victim] against a building." On that same day in the afternoon, a drunk driver caused a serious crash that resulted in multiple people being rushed to the hospital with significant bike injuries. And still, during the same 24-hour period, a truck driver struck and killed a bicyclist in a hit-and-run accident near the Cross Bronx Expressway. According to White, these collisions should be "a wake-up call" for New York. If you or a loved one has been injured in a cycling accident, contact a bicycle accident lawyer immediately to discuss your case.
While some Vision Zero initiatives have homed in on the Bronx with plans to develop protected bike lanes in the borough, White and other safety advocates argue that the borough needs more protection for bicyclists in order to prevent a serious personal injury accident. Notably, they want the initiative to make plans for speed safety cameras and in some cases, complete street redesigns.
Preventing Bicycle Personal Injury Accidents: What can Cyclists do?
The impetus should not be entirely on bicyclists to prevent personal injury accidents, but until city streets are redesigned with cyclists in mind, what can those cyclists do to stay safe? Some safety tips from BicycleSafe.com include the following:
Know the common types of bicycle collisions with automobiles and be particularly aware of them, including being struck by a car approaching at a perpendicular angle to the right, getting "doored" by a parked car, being struck while crossing in a crosswalk, and being struck while riding the wrong way on a street;

Install a headlight on your bicycle so that you can be seen, especially if you are riding at night;

Never ride your bicycle on the sidewalk;

Never ride against traffic—when you are on your bicycle, you need to follow the rules of the road as if you were a motorist;

Never come to a stop in a motor vehicle's blind spot;

Look in your mirror before you approach an intersection;

Look behind you before you turn right;

Never pass an automobile on the right; and

Use hand signals to let motorists know your plans.
If you were injured in an accident contact a bicycle accident attorney to determine your rights.