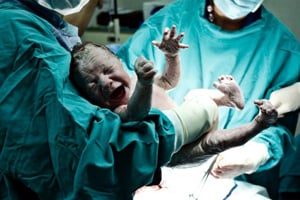 Actress Tori Spelling, as reported by the New York Daily News, was admitted to the hospital in September 2012 for complications during the birth of her fourth child. Spelling had a C-section and was rushed to the hospital shortly afterwards. She had also been hospitalized after the birth of her third child.
Sadly, Spelling's situation is not rare and birthing complications have become more common in New York as well as other states.  In fact, a study conducted by the United States Centers for Disease Control and Prevention (CDC) found that emergencies during delivery have increased by 75% since 2009. These emergencies included cardiac arrest, respiratory distress and kidney failure. Complications can include severe bleeding and hemorrhage. The same study found that complications for mothers after delivery doubled over the same period of time. On average, 52,000 women experience severe complications per year.
C-Sections & Maternal Complications
With an increasing rate of severe complications during childbirth, hospitals and public health officials need to step up the safety standards so that mothers can feel secure in the delivery room. These complications can be partially attributed to the rise of older or obese mothers, but complications can also occur in healthy and young mothers.
Some women are unable to have their babies pass through the birth canal and require a procedure known as a Caesarean-section (C-section). With the number of C-section deliveries on the rise, the increase in birthing complications comes as no surprise to medical professionals. With this type of delivery, complications are common since the choice of natural childbirth is no longer an option.
In addition to situations in which a baby or mother is in physical distress at the time of delivery, C-sections are required when a mother is diagnosed with placenta accreta – a condition in which "the placenta grows into the uterine wall through a surgical scar and can cause severe hemorrhage after delivery." Women who experience placenta accreta require an early delivery to save the uterus. According to the American Pregnancy Association, placenta accreta can occur in about 1 in every 2,500 pregnancies. Since 1996, there has been a sharp increase in the amount of women diagnosed with this condition during pregnancy, which has caused an increased in the number of C-section deliveries each year.
Dr. William M. Callaghan of the CDC says that the study is not intended to scare pregnant women. According to an interview with Reuters Health, Dr. Callaghan states that "the characteristics of the pregnant population are changing, so it's not unexpected that rates of certain complications might rise." Since the study only used hospital records as its data, no real determination can be made as to why there is an increase in complications. A system medical director for women's  health services at Ohio's Summa Health System, Vivian von Gruenigen, recommends that women do their research when it comes to doctors and hospitals and find out information from their doctors about risks because "women need to be their own advocates."
Legal Liability
With the rise of these complications and an increase in liability, hospitals also need to be proactive about increasing safety procedures during these emergencies. When birthing complications occur and could have been prevented, hospitals and health care professionals are susceptible to lawsuits filed by harmed mothers or their family members.  According the United States Agency for Healthcare Research and Quality, obstetrics-related complications make up $17.4 billion in our country's hospital costs yearly. Malpractice claims are often initiated in these situations and birthing complications comprise 25% of all of these malpractice claims.
To help limit the harm, according to the Wall Street Journal, the CDC is helping numerous states "establish guidelines and protocols for improving safety and preventing injury" by funding programs. These programs include training sessions where emergencies are imitated and doctors and nurses have to respond in the appropriate manner. Effective strategies used by the military are also being put into play.
When a child or mother suffers from a birthing complication, no one wins. Hopefully, extensive training by medical professionals, use of new and effective techniques and research done by the mothers themselves can decrease the future rate of birthing complications or injuries caused by such complications in the United States.  If you or a loved one has been harmed in this way, be sure to contact a medical malpractice attorney to protect your legal rights.