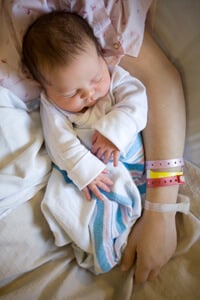 Lawsuits Allege Link Between Zoloft and Birth Defects
Last year, a Pfizer report included information from a scientist that suggested a "potential link" between birth defects and the manufacturer's anti-depressant Zoloft, according to a recent article in Bloomberg Business. As a result of that potential link, the scientist recommended that the drugmaker change the warnings given with the medication. Could the document be important for plaintiffs who currently have pending lawsuits
against Pfizer or plan to file birth defect claims related to this dangerous drug?
Although the document was not enough to sway a jury in the most recent Philadelphia case against the drugmaker, subsequent plaintiffs could have success if juries believe that Pfizer did not adequately warn consumers about the risks associated with the anti-depressant.
The drugmaker has come under fire by plaintiffs alleging that "the company sold Zoloft, once the U.S.'s most-prescribed anti-depressant, knowing it could cause cardiac abnormalities in newborns." Indeed, more than 1,000 lawsuits against Pfizer are currently pending. The first of those lawsuits went to trial in April, which Pfizer successfully defended. The company also successfully defended a second lawsuit in Philadelphia, even as the plaintiff cited the report indicating that the manufacturer knew of possible links between birth defects and its popular anti-depressant medication. But could another jury decide otherwise?
In addition to the recently discovered document, Pfizer researchers also noted the possibility of serious side effects for pregnant women who took the drug. Specifically, since the late 1990s, a number of side-effects indicated that "Zoloft couldn't be ruled out as a cause" for babies' birth defects.
Pfizer Researcher Recommends Modifying Warning Label
The first Zoloft case resulted in a jury siding with Pfizer, determining that the manufacturer's anti-depressant medication had not caused "defects that required a boy to undergo three open-heart surgeries and have a pacemaker implanted." At the time of the first pro-Pfizer verdict, the jury did not have access to Francesca Kolitsopoulous's internal company report from April of 2014.
In the report, Kolitsopoulous, then-associate director of the epidemiology group in the Pfizer's Worldwide Safety Strategy unit, examined a number of published studies that explored possible links between Zoloft and heart problems. Kolitsopoulous ultimately concluded that previous studies showed "links between Zoloft and septal heart defects, a congenital disorder that features a hole in a baby's heart."
She also determined that researchers "found ties between the anti-depressant and omphalocele, a birth defect of the abdominal wall, with intestines or organs forming outside the belly." Although she did make clear that the risks of birth defects were small, after examining the published studies, Kolitsopoulous "proposed modifying the drug's warning label to add findings of some researchers who'd identified potential links between the drugs and birth defects."
While the Philadelphia plaintiff introduced Kolitsopoulous's report without much success with the jury, it could still prove useful in subsequent lawsuits against Pfizer.
Winning a Failure to Warn Product Liability Case
How should persons who took Zoloft and had children with serious birth defects move forward with a claim against Pfizer? Given the emphasis on Kolitsopoulous's suggestion to modify the warning label on Zoloft, most plaintiffs likely will file a product liability lawsuit that alleges a failure to warn. This is one of three types of defects in strict liability cases in which a product defect has caused an injury. Failure to warn is sometimes described as a "marketing defect."
What will a plaintiff in a Zoloft case need to prove in order to be successful in such a product liability case? First, it is important to understand the elements of a failure to warn claim. When manufacturers like Pfizer make a drug like Zoloft, they must provide clear and adequate instructions about its safe use, and they must provide adequate warnings about the potential dangers of the product.
Product liability cases can be very complicated, but in general, a plaintiff alleging a failure to warn claim must be able to show:
Pfizer had knowledge of the potential harms (in this case, birth defects) associated with the intended or foreseeable use of Zoloft.
Pfizer did not provide adequate warnings about the risks of birth defects for pregnant women using Zoloft.
Pfizer's failure to provide adequate warnings about the potential link between Zoloft and birth defects played a role in the baby's injuries.
Contact a Product Liability Attorney
If you took Zoloft while you were pregnant and your child has a serious birth defect, you may be eligible to file a claim for financial compensation. Contact an experienced product liability attorney to determine your rights.