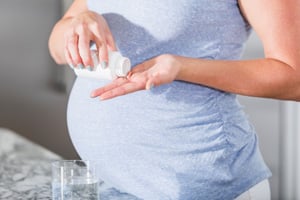 If you took Zofran to treat the symptoms of morning sickness during pregnancy, and your baby has a serious birth defect, you may be able to file a product liability claim. According to an article in Reuters, federal multidistrict litigation alleges that GlaxoSmithKline, the drug maker of the anti-nausea medication Zofran, failed to warn parents about the potential for severe birth defects. As the article points out, more than 100 cases against GlaxoSmithKline are currently pending, and other families may have been impacted by this dangerous drug.
What do you need to know about Zofran and its potential side effects?
Off-Label Use of Zofran to Treat Morning Sickness
Women throughout the country took Zofran to treat the effects of morning sickness during pregnancy. However, many—if not all—of these pregnant mothers had not received proper warning about the potential side effects of this medication. The drug was originally developed for patients experiencing nausea and other symptoms unrelated to pregnancy. According to an article in Bloomberg Business, Zofran is "a potent drug developed by GSK that was approved by the U.S. Food and Drug administrated to treat only patients afflicted with the most severe nausea imaginable—nausea suffered as a result of chemotherapy or radiation treatment." In other words, Zofran was intended for cancer patients dealing with debilitating nausea resulting from cancer treatments.
As the article underscores, "GSK nevertheless marketed Zofran 'off-label' as a safe and effective treatment for the very common side effect of a normal pregnancy—pregnancy-related nausea and vomiting—otherwise known as 'morning sickness.'" While GlaxoSmithKline has already contended with certain criminal implications of marketing prescriptions drugs like Zofran for off-label uses not approved by the FDA, many physicians continue to prescribe Zofran and its generic equivalents to pregnant women who are experiencing morning sickness. To reiterate, the drug has not received FDA approval for use as a medication to treat pregnancy-related nausea.
Birth Defects Resulting from Zofran Use
Although the drug maker has received "hundreds of reports of birth defects associated with Zofran and continuing strong sales to pregnant women," the Bloomberg article articulates, GlaxoSmithKline has not undertaken any substantial studies and has not made any efforts to update the warning labels that accompany the medication. If recent studies into the drug's dangerous side effects are correct, pregnant women who use Zofran may be at more than double the risk of having a baby with a heart defect than are women who never used the medication.
What kinds of birth defects are alleged to have resulted from the use of Zofran? Parties to the multi-district litigation have cited some of the following birth defects after using the dangerous drug:
Congenital heart defects;
Septal defects;
Cleft palate and cleft lip;
Skull deformities; and
Foot abnormalities including clubfoot.
Filing a Failure to Warn Claim Against GlaxoSmithKline
If you gave birth to a baby with a birth defect after using Zofran to treat symptoms of morning sickness, what kind of lawsuit should you file to seek compensation? What information will you need to win your case?
You may be eligible to file a product liability claim against the drug maker. Generally speaking, there are three different kinds of product defect lawsuits that a plaintiff can file:
Design defect;
Manufacturing defect; and
Labeling defect, or the failure to warn.
In the case of Zofran, pregnant women who used this drug could be eligible to file a failure to warn claim. This kind of claim is one in which the plaintiff alleges that the product maker failed to warn consumers about the possible dangers involved in using a product. If you were to file a failure to warn claim against GlaxoSmithKline in relation to Zofran use and birth defects, you would contend that the drug maker failed to warn you (and other pregnant mothers) about the risks of birth defects involved in using Zofran to treat nausea associated with morning sickness. 
Contact a Birth Defect Lawyer 
If you took Zofran and suffered harm, you are not alone. Contact an experienced defective drug attorney to learn more about your rights.