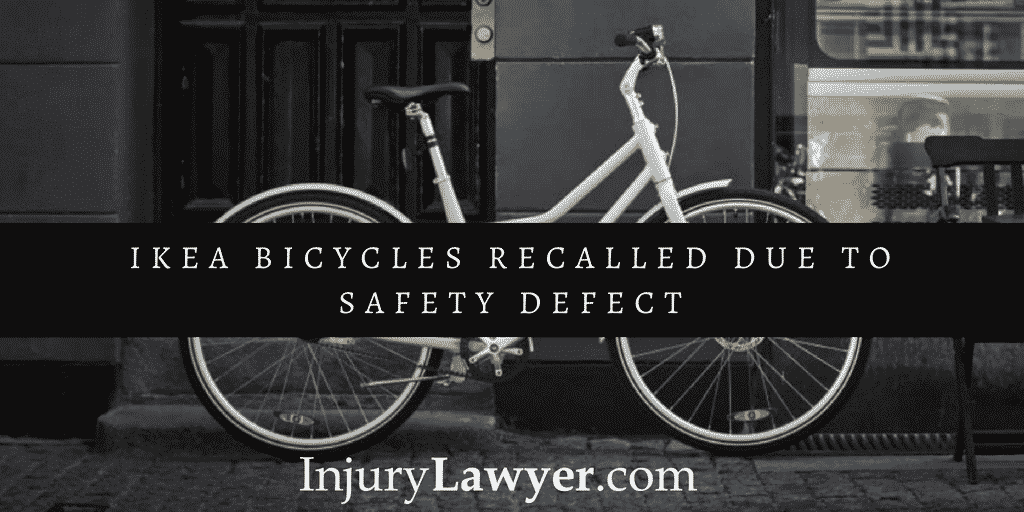 Bicycles Show Defect in Belt Drive, Potentially Causing Bicycle Accidents and Personal Injuries
Whether you go to a store to buy a new bicycle or purchase a bicycle second-hand from a local business or a private seller, you should be able to expect that the bicycle will be free from any safety defects. However, product liability negligence and defects often result in serious personal injury accidents and in product liability lawsuits. According to a recent article in Consumer Affairs, IKEA has issued a recall of its SLADDA bicycles because of a defect in the bicycle belt.
The belts on the IKEA bicycles can snap or break suddenly, causing the rider to fall from the bike and sustain significant harm. As you might imagine, this particular product defect not only could result in a bicyclist suffering a personal injury accident on a road without any cars around, but it could also lead to a crash involving a bicyclist and a motor vehicle driver. Thus far, IKEA has received at least 11 reports from consumers of the bicycle belts snapping with bicyclists falling, and at least two of those reports involved bicyclists who sustained injuries.
According to a report in Bicycle Retailer, the recall involves nearly 5,000 bicycles that were sold in the United States. IKEA and the U.S. Consumer Product Safety Commission (CPSC) are currently working to get these bicycles off the market. Approximately 200 SLADDA bikes were sold in Canada and could end up being sold to consumers in the U.S. Both the 26-inch SLADDA bicycle (article number 303.267.28) and the 28-inch SLADDA bicycle (article number 603.267.36) are subject to the recall. At the time of sale, these models sold for anywhere from $400 to $500. The bicycles are all a light gray color, and they are made with an aluminum frame. The word 'IKEA' is also printed "at the bottom of the seat tube near the crank." The article numbers are also printed on a sticker, which can be found "at the bottom of the downtube." If you possess this bicycle or have experienced an injury from a defective product, you should contact a product liability lawyer immediately.
What You Should do When You Own a Recalled Product
As the recall notice emphasizes, if you own one of the IKEA bicycles that have been subject to the recall, you should stop riding the bike immediately and should contact IKEA to receive a full refund. Consumers can reach IKEA by phone or online at the company's recall page.
While attempts are made to get recalled products off the market, many nonetheless find their way into secondhand sales. How can you know if a used product has been subject to a recall or involved in a defective product lawsuit? According to USA.gov, before you buy any used product that could potentially be subject to a safety recall, you should check the following sites based on the type of property you are considering for purchase:
Recalls.gov (for a general list of recalls initiative by federal agencies within the government);

Safercar.gov (which provides product liability negligence information concerning motor vehicles and child car safety seats);

FSIS.USDA.gov (for information about recalled food products);

FDA.gov (for general information about both food and non-food products that could have been recalled, such as fruits or vegetables, medications, and medical devices);

Foodsafety.gov (this website provides information about food recalls from the U.S. Food and Drug Administration (FDA) and the U.S. Department of Agriculture (USDA); and

SaferProducts.gov (provides an easy way for consumers to report safety defect concerns and to search for other consumers' reports).
If you experienced a personal injury accident because of a defective product, you should speak with a product liability lawyer about your case.