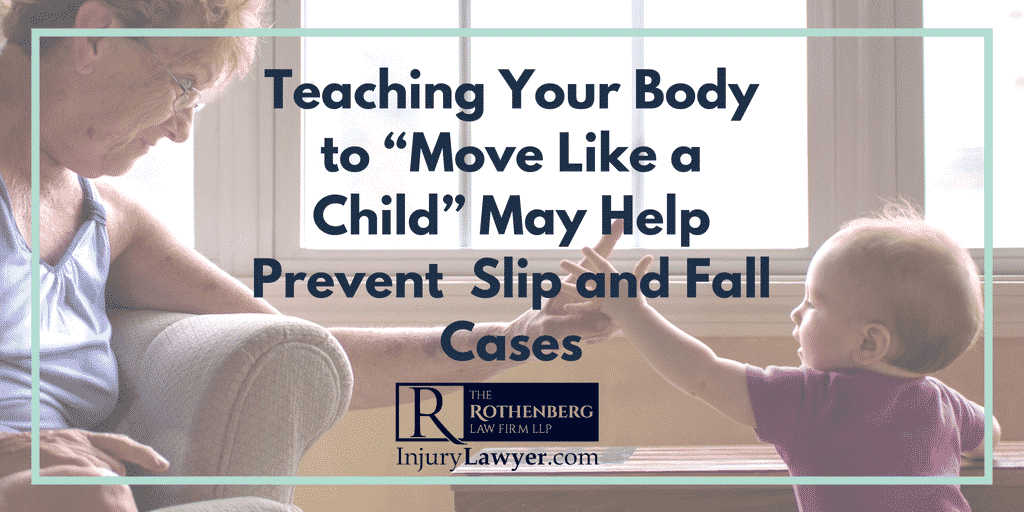 Teaching Your Body to "Move Like a Child" May Help Prevent  Slip and Fall Cases
As people age, they tend to take things more slowly. For instance, we might walk less strenuously during exercise, or we may cut down on high-impact fitness routines. However, according to a recent news release from the Mayo Clinic News Network, getting active in a manner that recalls childhood play may be among the best ways to prevent serious fall-related injuries, including slip and fall injuries, and other serious injuries as we age. According to Danielle Johnson, a wellness physical therapist at the Mayo Clinic, "play therapy is one of the keys to protecting yourself from injury as you age." If you have experienced a serious fall injury, however, it is important to contact slip and fall lawyers who can determine your rights.
What is play therapy?
According to the news release, Johnson "tells patients to picture a baby who is just learning to crawl," and then "she asks how many of them are still able to get on the floor and crawl around—even though their bodies were made for such movements." As Johnson explains, as we age, many of us "lose the ability to stabilize our core in diagonal and rotational planes." This loss of ability can result in a higher risk of slip and fall back injuries, hip injuries, and neck injuries, especially in the event of a fall. Re-learning how to move like a toddler or young child may help older adults to get that ability back and prevent trips, slips, trips, and falls.
What types of fitness routines does Johnson recommend?
As part of the Mayo Clinic Healthy Living Program, she encourages patients to play like children, which often involves many or all of the following activities:
Hanging;
Jumping;
Crawling; and
Running.
A constant movement that incorporates many different activities can help to keep adults healthier and in better shape to prevent serious slip and fall injuries.
Slip and Fall Injuries Among the Elderly: Get the Facts
Why is it so important to learn new ways of preventing serious fall-related injuries among older adults? The National Council on Aging (NCOA) highlights how falls are the leading cause of both fatal and nonfatal injuries in older adults in the United States. Even when a fall does not result in a fatal injury, it is often debilitating and ends up costing the injury victim significant personal freedom and flexibility, not to mention the physical and financial costs associated with the injury. Yet, as the NCOA emphasizes, falls are not inevitable as we age, and they can, in fact, be prevented. In the event that you've experienced a fall on public premises, contact a slip and fall attorney who can help you determine if you have a premises liability case.
Here are some facts from the U.S. Centers for Disease Control and Prevention (CDC) about fall injuries and older Americans:
About 25% of all Americans older than the age of 65 will fall once a year;
Falls are so prevalent among the elderly that, on average, every 11 seconds a senior seeks treatment in an emergency room for a nonfatal fall, while every 19 minutes, on average, a senior suffers a fatal fall-related injury;
More than 2.8 million people seek treatment in emergency departments each year for fall-related injuries, and more than 800,000 require hospitalization; and
There are more than 27,000 fall-related deaths annually.
To learn more about filing a claim for a fall-related injury, you should speak with a slip and fall lawyer about your case.