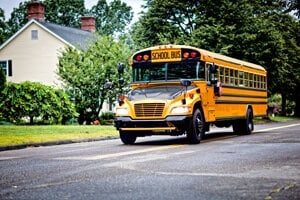 School Just Started and Children Should Learn About School Bus Safety 
The school year has just begun, which means that kids will be riding school buses regularly during the week and for certain school-sponsored events over the weekends. According to a report from CultureofSafety.com, while passengers are not injured frequently on school buses, these accidents can be severe or fatal. And school bus accidents do not just concern kids who are riding the bus. Many school bus accidents involve children who are waiting for the bus to arrive or are walking or riding a bicycle to school when they are struck by a school bus.
Generally speaking, riding a school bus is safer than being a passenger in an automobile. The report cites figures from the National Highway Traffic Safety Administration, which suggest that about 25 million kids ride school buses everyday in the United States with about 130 fatalities occur each year. Who makes up the 90% of total school bus accident fatalities? Typically, these accident victims are passengers in another vehicle or are pedestrians at the time of the crash.
Given that many school bus accidents are preventable, it is important for parents to teach their kids about proper school bus safety. Many of the precautions that children should be taking concern those who are walking or bicycling to school, or those who are waiting for or boarding a school bus.
What are some of the most important safety tips for keeping our kids safe?
Safety Tips to Prevent School Bus Accidents
A safety tip sheet from the National Safety Council (NSC) provides essential information for parents and kids alike as we begin the start of a new school year. The following safety tips can help to prevent school bus accidents:
Stay away from the street and any traffic while you are waiting for the school bus;
Do not wait for the school bus behind a parked car (make yourself visible to traffic);
As the bus approaches, line up for it away from the street;
Do not approach the school bus to board until it has come to a complete stop and its doors have opened;
Always use the handrail while climbing the steps to board;
Use a seat belt if it is available;
Avoid any actions that could distract the bus driver;
Remain in your seat while the bus is moving;
Never put your head, hands, arms, or legs outside the bus windows;
Keep your bags out of the school bus aisles;
Do not stand up to get off the bus until the school bus has come to a complete stop;
Always cross the street at least 10 feet in front of the bus so that the driver can see you; and
Look both ways (and both ways again) before crossing a street after you get off the bus.