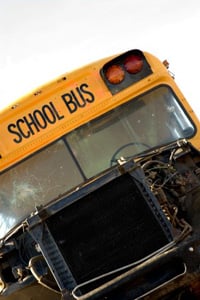 School Bus Crash Injures Four People

Earlier this month, a school bus accident occurred in Brooklyn on Atlantic Avenue near Hicks Street, according to an article in the New York Daily News.  The school bus "slammed into another vehicle" before it flipped onto its side and hit a pickup truck.  Four people reported injuries in the crash, including the school bus driver, the bus matron, another motorist, and a nearby pedestrian.  The accident victims were transported to Kings County Hospital.  Fortunately, no one sustained life-threatening injuries.

At the time of the accident, the bus had only been carrying the driver and the matron.  However, witnesses described the crash as a dramatic one, according to the New York Daily News.  More significantly, this bus accident occurred after several others were reported in the New York City area over the last few months.  Most notable, perhaps, was a Staten Island school bus accident that left eleven people injured, according to a report from WABC-TV New York.  In this crash, many of the victims were children, who sustained serious injuries after the school bus flipped over.  According to witnesses, the school bus driver never came to a complete stop at a stop sign.  As a result, it was struck by a pickup truck that was driven by an off-duty member of the FDNY who had been transporting his daughter to school.

Unfortunately, school bus accidents happen more often than we'd like to think.  Are our children safe taking the bus to school?

School Bus Accident Statistics: Occupants and Pedestrians

The National Highway Traffic Safety Administration (NHTSA) collects statistics surrounding school transportation-related crashes, a category that includes school bus accidents.  According to NHTSA, there were a total of 1,236 fatal school transportation-related crashes over the last decade, and many of the victims were student passengers.  While this number accounts for only 0.34 percent of the total fatalities that occurred in motor vehicle accidents, it's still unsettling to learn about accidents involving young children.

Are children the only ones at risk of injury in a school bus accident?  While many student passengers suffer injuries because school bus accidents, transportation-related crashes can also harm and fatally injure pedestrians and bicyclists.  According to NHTSA, current statistics indicate that an average of 19 children die in school bus accidents each year.  Yet surprisingly, most of these children are pedestrians - not passengers. In fact, on average, only 6 child passengers die each year due to school bus accidents.

NHTSA keeps track of occupant and pedestrian injuries, and in almost every group of school-age children, more pedestrians than passengers suffer injuries in a school transportation-related accident.  Between 2000 and 2009, the following age groups accounted for both occupant and pedestrian fatalities:

Children under the age of 5: 17 pedestrian fatalities and 1 occupant fatality

Children aged 5-7: 56 pedestrian fatalities and 5 occupant fatalities

Children aged 8-13: 35 pedestrian fatalities and 27 occupant fatalities

Children aged 14-18: 22 pedestrian fatalities and 24 occupant fatalities

Children aged 19 and older: 108 pedestrian fatalities and 50 occupant fatalities

In the majority of the pedestrian fatalities, the children were struck by school buses that were on duty, according to NHTSA.  Therefore, it is not only important for children to abide by safety rules while they're riding on school buses- but may be even more important for children to stay alert while they're waiting for the bus and when they are crossing the street.  If your child has suffered injuries in a school bus accident, you should speak to a personal injury lawyer.