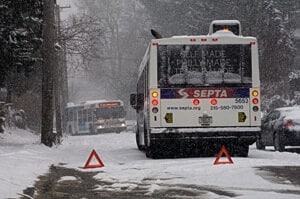 Pedestrian Struck and Killed By SEPTA Bus While Crossing in a Crosswalk- These Accidents Should Never Happen! 
Pedestrians in Philadelphia need to be aware of the risks associated with walking in an urban environment with significant traffic in order to avoid a deadly pedestrian accident. According to a recent report from NBC News, a SEPTA bus struck and killed a 64-year-old woman from Southern New Jersey.
How did this bus accident happen? According to Philadelphia Police Sgt. Joseph Rossa, who was quoted in the ABC 6 News report, as the victim "started to cross the intersection at Chestnut Street—she had a green light—just as she was crossing, a SEPTA bus also traveling southbound on 23rd Street attempted to make a left-hand turn to go eastbound." As Rossa went on to explain, "they both had a green light. She was in a crosswalk, had a right-of-way to cross the street." However, even with the right of way and crossing in a crosswalk, this terrible tragedy occurred.
Pedestrian Accident Statistics: Get the Facts and Figures 
How often do pedestrian accidents occur? According to a fact sheet from the National Highway Traffic Safety Administration (NHTSA), the following facts and figures highlight the seriousness of pedestrian accidents and injuries in the U.S.:
4,735 pedestrians suffered fatal injuries in traffic accidents in 2013;
One pedestrian sustains a deadly injury in a traffic accident every two hours;
On average, one pedestrian suffers injuries in a motor vehicle collision every eight minutes;
14% of all traffic-related deaths in 2013 were attributed to pedestrian victims;
A majority of pedestrian accident (26%) occur between the hours of 6:00 p.m. and 9:00 p.m.;
Alcohol played a role—alcohol use among either the driver or the pedestrian—in nearly half of all deadly pedestrian accidents in 2013;
More than 90% of pedestrian fatalities are single-vehicle crashes; and
About one-fifth of all fatal pedestrian collisions are hit-and-run accidents.
Pedestrian fatalities happen way too often. Drivers must pay attention and yield the right of way to pedestrians.  For pedestrians, pay attention to your surroundings at all times. Even though you may have the right of way, not all drivers will yield to you- so make sure the driver can see you before you cross. In the event that you or someone you love were injured in a pedestrian accident, contact an experienced pedestrian accident to determine your rights.