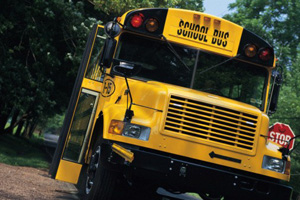 At what seems like a surprisingly high rate, news reports are popping up about school bus accidents and related injuries.  According to a recent article from NBC Philadelphia, an empty mini school bus collided with a commuter bus carrying passengers on a New Jersey highway on January 12, 2013.  The commuter bus crashed into a tree and left seven passengers hospitalized, with one of those victims seriously injured.  In mid-December, NBC Philadelphia reported a similar accident in which four elementary-school students were hospitalized after their school bus crashed into a Philadelphia-area home.  Prior to the accident, witnesses recalled seeing the bus "sideswipe a few cars and hit a metal gate before hitting the house."  The witnesses also indicated that the school bus driver was visibly talking on his cell phone in the moments leading up to the accident.
What You Should Know About School Bus Accidents
When these school bus accidents occur, victims often suffer physical and psychological injuries, as well as expensive medical bills.  Additionally, victims may lose the ability to work and earn income as a result of their injuries.  It's important to keep in mind that bus accident victims are not just the passengers riding in the bus.  School bus injuries can affect passengers in the bus, as well as drivers and passengers in other vehicles hit by the school bus, and pedestrians involved in the accident.
How Often Do They Happen?
School bus accidents happen more often than you might think.  According to the National Highway Traffic Safety Administration (NHTSA), between 1998-2008 there were approximately 414,399 fatal motor vehicle crashes, of which 0.34 percent were related to school transportation.  This percentage means that 1,564 of these fatal crashes involved school buses.  That's an average of 142 school transportation-related fatalities per year!  The NHTSA defines a school transportation-related crash as one that "involves, either directly or indirectly, a school bus body vehicle, or a non-school bus functioning as a school bus, transporting children to or from school or school-related activities."  In other words: either school buses or other buses serving as school buses to transport children to and from school, or to and from school-related activities.
Think you're safe if you don't ride in or drive a school bus?  An NHTSA 2008 report detailing traffic-safety data indicated that the majority of victim fatalities in school bus accidents typically are occupants of other vehicles that were involved in the crash.  In fact, nearly 92 percent of fatalities were not school bus passengers, but rather occupants of other vehicles (72 percent) or non-occupants such as pedestrians or bicyclists (20 percent).  Actual school bus occupants only made up 8 percent of reported fatalities.
So what does this mean for you?  Even if you're not a regular school bus passenger, you could become a victim of a bus crash.  School bus accidents can happen for a variety of reasons, including bus driver negligence, dangerous weather and road conditions, defective bus equipment, and/or improper maintenance.  If you or a loved one are the victim of a bus accident, you may be entitled to compensation for damages.  Contact an experienced injury attorney today to discuss your options.