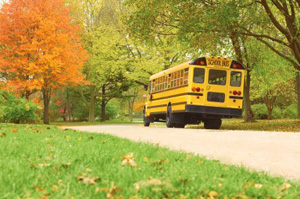 In a unanimous show of support, the US Senate recently passed a resolution designating one month (October) to school bus safety. The resolution also calls for supporting The Child Safety Network, which offers free safety training to bus drivers.
According to a report by the National Highway Traffic Safety Administration (NHTSA), 23.5 million children ride school buses every year in the US, covering 4.3 billion miles of distance. There are approximately 450,000 school buses in operation each year. Considering the volume of children being transported every day, the number of child fatalities is statistically low: six child passengers die on average every year due to school bus related accidents. To put that number in perspective, more than 42,000 people in America die in car crashes every year. NHTSA explains:
School buses are approximately seven times safer than passenger cars or light trucks.  The school bus occupant fatality rate of 0.2 fatalities per 100 million vehicle miles traveled (VMT) is considerably lower than the fatality rates for passenger cars or light trucks (1.44 per 100 million VMT).
Of course, despite the low statistics, every death of a child is tragic, and there are also many non-fatal-injuries that occur in school bus travel (17,000 every year, according to the journal Pediatrics).  As the national focus returns to school bus safety, one question that often resurfaces is: why are so many school buses not equipped with seat belts?
Do Seat Belts on School Buses Improve Safety?
NHTSA does in fact mandate certain school bus safety regulations, such as the existence of emergency exits, proper roofing, and seats that are engineered to help prevent injuries. However, NHTSA, as well as the National Transportation Safety Board and the National Academy of Sciences, have all concluded that there is simply not sufficient evidence to indicate that school buses should be legally required to have seat belts. Safety engineers have found that the large shape and heavy weight of the typical school bus uniquely determine the effects of a collision. In a system called "compartmentalization," school buses are designed with seats that are very close to each other and that have high backs, which are particularly impact absorbent. Studies have shown that this system has provided adequate safety for children passengers on school buses.
Despite these findings, there are still some safety advocates who claim that seat belts do provide an added measure of safety. In particular, supporters argue:
While compartmentalization is an effective feature for front and rear impact collisions, there is still no safety device in place in the event of a lateral crash or roll-over.
There may be some added behavioral benefits; the data proves that there are fewer incidents of bullying when children are fastened in their seats.
And in fact, many states, including California, Florida, New Jersey, New York, Louisiana, and Texas, have passed legislation that calls for some degree of seat belt requirements in school buses.
Why is it that adults have to wear a seat belt on a plane but school busses have no seat belts at all??

— Devlino (@devlen_lam) December 1, 2013
Negative Consequences of Seat Belts
On the other hand, critics of these laws point to the sometimes forgotten risks of having seat belts on school buses:
The buckles, if not utilized, can result in more harm in the event of a crash, as the strap and buckle may swing into a child.
In the aftermath of a collision or fire, the seat belt may hinder rescue workers in their attempt to extricate a child from a school bus.
Some bus drivers note that children use the hard metal buckle of the strap to injure other children.
What Can You Do?
While the debate over seatbelt legislation continues to engage lawmakers and safety officials, there are a number of steps that you can take to ensure your child's safety while traveling on a school bus:
Emphasize to your child the need to remain seated at all times while in a moving vehicle. Your child has a greater chance of suffering an injury if he or she is not seated at the time of an accident.
Encourage teachers to discuss school bus safety with their students.
Educate yourself about the issues and discuss with local legislators their views about school bus seat belts.
With proper caution, school bus transportation can remain a safe option for your children.