When a motor vehicle accident occurs, it is easy to become disoriented, shaken, and confused. However, in the aftermath of an accident it is important to obtain crucial information. A helpful way to remind yourself what to do after a car accident is to keep a checklist of phone numbers to call and questions to ask along with your insurance information in your glove compartment or center console.
I Just Got Into a Car Accident. What Do I Do?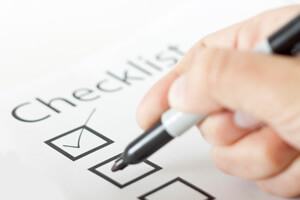 Being in a car crash can be stressful, but everyone should have an accident procedure in the case that they are involved in one. Use the following list as a basis for your own car accident checklist, and remember to contact a car accident lawyer for more information on the proper steps to take following a crash.
Ensure Safety:

If anyone is injured, immediately call the police for help and tell them you need medical assistance. If anyone involved seems to be under the influence of drugs or alcohol, tell that to the police when you call. Always call the police whether or not there are injuries, as many insurance companies will not cover an accident unless there is a police report. Once everyone is safe, you can begin gathering other necessary information.
Ask Questions:

Your insurance company will need the contact information of everyone involved, including drivers, passengers, pedestrians, and any witnesses. Be sure to try and gather their full names, addresses and phone numbers, as well as driver's license information.

Try to find out if anyone is injured or says he or she is injured; or if anyone says "I am fine".

Make as many notes as you can about the accident itself. What was the weather and lighting like at the time of the accident? Were any of the involved vehicles damaged? Was any of the damage obviously present prior to the accident, such as non-functioning tail lights or brake lights? Were any of the vehicles company-owned?

Get information about the other vehicles involved, such as license plate numbers, make, and model.

Be sure to find out the insurance status of all vehicles and persons involved. If any drivers were not the registered owners, get the registered owner's name, address, and phone number(s).

Did anyone take blame for the accident?

Get the names and badge numbers of any police officers who respond to the scene.
Document the Accident and Protect Evidence:

If you can get a camera, it is wise to take as many photos as possible of the accident scene, the vehicles, people involved, and anything else that might have bearing on how and why the accident occurred. Pictures taken as soon as possible will be the most valuable. If you do not have a camera, ask a passenger or bystander to take the photos for you. Don't forget to take pictures of the damage done to all vehicles and license plates, or evidence such as street signs, lights, skid marks, etc. Once you are in touch with an attorney after your accident, be sure to tell your attorney about any other evidence you think might be important, such as faulty street lights or signage, malfunctioning equipment (seat belts, turn signals, etc.), weather conditions, etc.
Consider Insurance:

Contact your own insurance company as quickly as possible. If you feel, for any reason, that your company may not be willing to cover the accident, you should  contact a personal injury attorney beforehand. However, do not delay in contacting your insurance carrier. Most insurance companies have policy requirements as to how quickly after an accident you must contact them, and failure to do so might mean your claim will be rejected. On the other hand,

you should not make any statements

or answer any questions from the other driver's insurance company until you have consulted an attorney. Be polite, but decline to discuss any aspects of the accident until you have obtained legal advice.
Injured From a Car Accident? Here's What To Do Next
If you are hurt in a car accident, it is vital to get medical care as soon as possible. If you were not taken to the emergency room directly following the crash for more serious injuries, you still may need to be evaluated by a medical professional. Many injuries from vehicle crashes, like whiplash, come with symptoms that do not show up right away. If you do begin to suffer ill effects from the crash, notify your health professional immediately, get checked out, and follow the doctor's instructions in regards to care and follow-up.
Failure to get medical care might have serious consequences if you have latent injuries that only show up 24-36 hours later. Report any symptoms to your doctor, however slight. Serious back injuries can start out as nothing more than a simple ache, but left untreated they can cause major health difficulties. Furthermore, if you do have problems, your insurance company will need proof that the problems were diagnosed and treated promptly, and that the problems were related to the accident.
If you are injured, the next step in this process would be to get legal help. You should contact an experienced car accident lawyer immediately. He or she may wish to examine the evidence at the site and gather as much information as possible.
Should I Get an Attorney After a Car Accident?
Even though you are not required to consult a lawyer after a car accident, it could be beneficial in helping you get the compensation you deserve. Having a car accident lawyer from The Rothenberg Law Firm LLP by your side throughout the claims process will ensure that your rights are protected while you focus on your recovery. 
It is important to have an injury lawyer in your corner that is well-versed in traffic accident law so they can help you with your insurance claims. As we now know, it is unwise to negotiate with an insurance company about your claim without speaking to a lawyer first because the insurance adjuster can and will use anything you say against you. An experienced car accident attorney can help you figure out what damages you are eligible to collect, and this compensation can come as a result of:
Medical bills

Lost wages

Reduced earning capacity

Diminished quality of life

Punitive damages
Remember: every state has a deadline for making personal injury claims. This is known as a statute of limitations, and it will apply as soon as you know you're injured. This means that you have limited time to settle your claim and once that time is up, you lose your right to file a lawsuit. Your insurance company is not obligated to help you settle your case before the deadline, and that is why it is imperative to contact an injury lawyer in order to protect your claim.
Car Accident Lawyers
If you think you or a loved one might have been harmed as a result of a vehicular accident, it is important to reach out to a legal professional to learn about your options. The Rothenberg Law Firm LLP can provide the experienced legal help you need. The firm can be reached at 1-800-624-8888 or you can fill out a free online case evaluation form. The initial consultation is always FREE. If the case is pursued there is no legal fee unless we are successful in getting you money.
Timing is important, because statutes of limitations affect how long you have to file a claim. Don't wait; contact us today.
Last updated: 4/21/2023