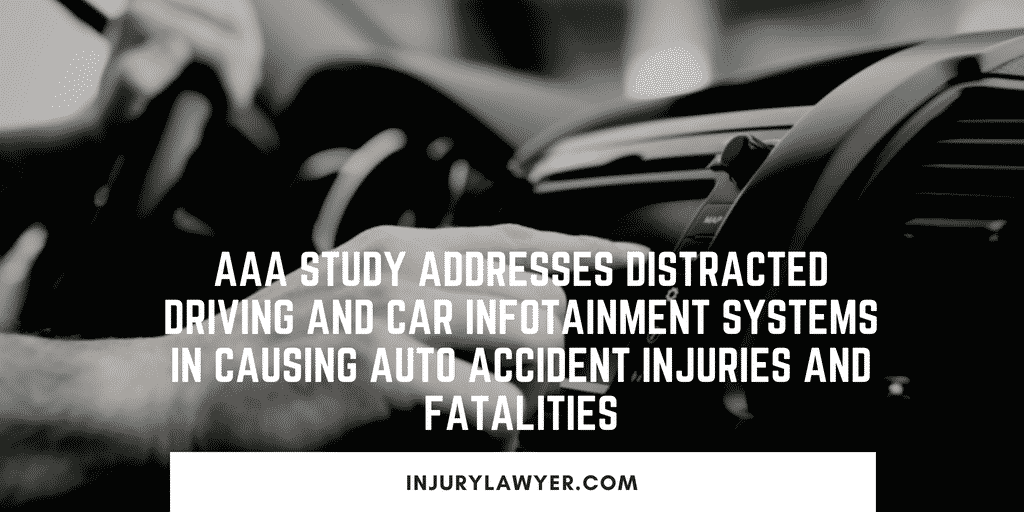 Do you currently use Apple CarPlay or Google's Android Auto, or do you rely on a navigation or infotainment system preloaded into your vehicle? If so, you may have heard a wide variety of opinions about distracted driving and these automobile systems. If you do use any of these systems, are you at greater risk of being involved in or causing a distracted driving auto accident injury or fatality? According to a recent study from the AAA Foundation for Traffic Safety, which was reported in The Washington Post, "smartphone-based systems [are] more flexible and less distracting to drivers than built-in systems found in five vehicles."
In other words, smartphones might not be as distracting as other forms of the technology behind the wheel in certain circumstances. While the new study definitively does not suggest that smartphone use when you are driving is a good idea, it does show that the sources of navigation and infotainment systems come with different levels of risks for distraction that can then lead to auto accidents and injuries. The systems developed by smartphone makers like Apple and Google appear to cause fewer distractions than systems that are preloaded into cars.
In order to assess these different types of systems, a team of psychology researchers used a constructed vehicle track "with just a couple of turns and stop signs"—a relatively simple track for drivers. In addition, the research team fitted participants in the study with two different types of stimuli that "Were supposed to mimic the sorts of unexpected things drivers need to look out for." More specifically, participants were fitted with a finger button that "clicked on and off when pressed against the steering wheel," a buzzer designed to vibrate against the driver's collarbone, and a lightbulb that, when illuminated, reflected on the interior part of the windshield in order to obstruct the driver's vision.
In the end, the researchers found that even systems like Apple CarPlay and Android Auto could be designed with fewer distractions for drivers, yet they were far simpler and thus less distracting than built-in systems. As such, the smartphone systems were less likely to cause car accidents and subsequent auto accident injuries than preloaded navigation and infotainment systems. If you or a loved one has been injured after a car accident and suspect the other driver was distracted, discuss your case with a car accident lawyer.
Get the Facts About Distracted Driving
The National Highway Traffic Safety Administration (NHTSA) provides some of the following facts and figures concerning distracted driving:
3,450 people died as a result of distracted driving accidents in 2016;

391,000 people suffered injuries in distracted driving crashes in 2015;

About 481,000 drivers are using cell phones or smartphones at any given point while driving during daylight hours;

Teenagers are statistically most likely to be involved in a distracted driving crash; and

Despite changes to state laws, the rate of drivers who visibly use handheld cell phones while driving has remained relatively constant.
Many distracted driving crashes and resulting injuries after a car accident occur because a driver was using a smartphone in some capacity—to talk, text, surf the internet, or even set a navigation system. Drivers have a duty to others on the road and should not engage in any kind of activities that could lead to distractions behind the wheel. If you or someone you love got hurt in a motor vehicle collision caused by a distracted driver, it is important to learn more about filing a claim for compensation. You should discuss your options with a car accident lawyer.