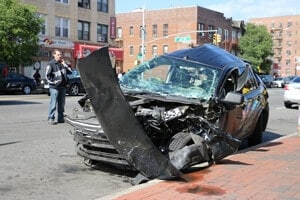 New Research Suggests Sharing Data Across Agencies Can Provide Insight into Traffic Safety 
Although the total rate of traffic fatalities has been declining in New York City over the last three years, many preventable deadly collisions continue to occur. According to a recent article in GCN.com, one potential way to reduce the rate of fatal car accidents in the city may have to do with data and the ways in which state agencies share that information. The article discusses a new report that demonstrates how sharing data may help New York City "meet its Vision Zero goals of ending traffic fatalities."
What data has been collected on traffic fatalities? How could this data help reduce the rate of deadly accidents? The report cites the following:
Modeling data: This type of data can allow NYC officials to analyze different types of fatal crashes—e.g., rear-end crashes, high-speed crashes—to get a better understanding of preventive measures that are distinct to specific types of collisions. In addition, modeling data can help suggest "how effective each intervention is at reducing injury and fatal crashes."
Driving Behavior Indexes: This type of data can provide specific information about driver behavior at precise corridors and intersections in New York. For instance, what is the average speed of drivers through a particular corridor or intersection? How hard do drivers accelerate or brake in these particular areas? Making these determinations can help officials "rank and classify corridors and intersections based on driver behavior."
Identifying injury patterns: The Department of Health and Mental Hygiene identifies "patterns of injuries associated with crash characteristics." This information can help determine how specific accident types lead to severe (and preventable) injuries.
Seasonal data: The New York Police Department and the Department of Transportation collect data on seasonal accidents, which tends to suggest that the fall and winter months—in which there are fewer hours of daylight—tend to have more accidents. On fall and winter evenings, there is a "40% increase in severe injury and fatal crashes involving pedestrians." This information can help officials consider the importance of new lighting solutions across the city. 
Getting the Facts About Fatal Car Accidents 
There is great need to reduce the rate of fatal car accidents in New York City and throughout the country. According to a fact sheet from the Insurance Institute for Highway Safety (IIHS), there were nearly 36,000 deaths in motor vehicle collisions in the U.S. in 2015. New York has a relatively low fatal accident rate of 5.7 deaths per 100,000 people, compared with a national average of 10.9 deaths per 100,000 people. However, those numbers should and can be reduced. The following are some facts and figures concerning fatal crashes:
60% of fatal accidents in New York are single-vehicle accidents, while about 35% are multiple-vehicle crashes;
About 24% of fatally injured drivers in New York have a blood alcohol content (BAC) of greater than 0.08%;
31% of fatally injured passengers in New York were not wearing a seat belt, and
In New York State, 60% of deadly crashes occur in urban areas.
If someone you love sustained fatal injuries in a motor vehicle crash, contact a car accident lawyer to determine your rights.