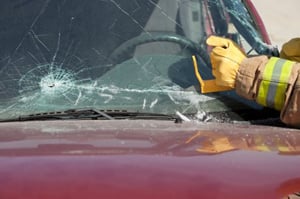 In early November, a deadly car accident in the Bronx took the lives of a livery cab driver and his fare on the Hutchinson River Parkway, according to an article in the New York Daily News.  The crash was a horrific one, leaving a gruesome scene on the Bronx highway where the accident occurred.  Both victims had been husbands and fathers, and they leave behind many grieving family members.
No one expects a car accident to occur, and families of automobile accident victims experience substantial losses.  Even when crashes aren't as devastating as the recent accident in the Bronx, they can be extremely traumatizing for injured parties and for their loved ones. When crashes such as this one occur, negligent parties may be liable for the victims' deaths.  In these cases, the families of the decedents may be eligible to file a car accident claim or wrongful death lawsuit.
Details of the New York Automobile Crash
According to the New York Daily News, the day of the crash began with "a routine morning run to the airport," as the driver arrived in Queens to pick up his passenger. While the cab driver was headed southbound on the highway, "a black SUV heading northbound suddenly careened wildly near the overpass at Orchard Beach," according to the police report.  The driver of the SUV "skidded across three lanes, slammed into the median and sailed directly into the cab—tearing off its roof and killing both men inside," the police said.
The driver and passenger of the black SUV that caused the crash actually survived the accident.    The police are still working on determining the cause of the accident.  Specifically, they are hoping to determine whether the driver of the black SUV had been driving under the influence of drugs or alcohol.
Wrongful Death Lawsuits in Car Accident Cases
When another driver behaves negligently either by driving under the influence, driving while talking or texting, or driving while distracted—that driver can be liable for any and all injuries that might occur.  That liability can take different forms. If an injured party dies as a result of the negligence, then a unique civil lawsuit may be filed for wrongful death.
Wrongful death lawsuits are different than other injury lawsuits, because they seek to compensate the surviving family members for their losses--even though they may not have been in the accident themselves. That is different than other lawsuits where the individual who suffered the actual personal injury files for redress on his or her own behalf.
In New York, the state's wrongful death statute allows certain individuals, usually spouses and children, to recover two forms of damages- economic loss and the conscious pain and suffering of the deceased.