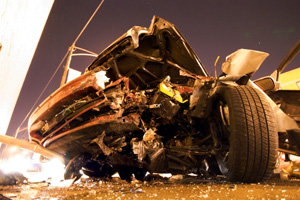 Fatal Head-On Crash Near Philadelphia High School
A recent article from CBS 3 Philly reported that a head-on crash just outside of Northeast High School in Philadelphia resulted in the death of one victim and the serious injuries of another. Police continue to investigate the cause of the accident, but they believe that one of the drivers may have ran a red light.
Will this tragic car accident automatically lead to a lawsuit?
Understanding Negligence and Car Accident Claims
Many car accident claims are based on the legal theory of negligence. Negligence simply means that a driver behaved in a way that was careless or reckless—and that behavior led to an accident.
In general, in order to file a successful negligence claim, you need to show the following elements:
The person owed you a duty (in the case of a car accident, this duty is to behave with reasonable care while driving);
The person breached the duty (or, in other words, the driver did not behave with a reasonable level of care);
That breach of duty caused your injuries; and
You have evidence of your injuries and the losses that you have endured.
Some of the many duties of reasonable care that a driver might have can include:
Staying alert and looking out for potential hazards;
Driving at reasonable speeds and generally obeying all of the rules of the road; and
Properly maintaining their vehicle to ensure that it is functioning properly and safely so that no accidents result from poor maintenance (for example, maintaining your vehicle can involve taking actions like replacing worn tires or having the brakes checked).
What happens if neither of the drivers in the recent accident behaved negligently? Other factors could come into play in order to allow one or both of the victims to file a lawsuit. For instance, perhaps the city of Philadelphia failed to properly maintain the roadway or the traffic lights failed. Or, perhaps one of the vehicles malfunctioned due to a defect in the vehicle.
Is There a Time Limit to How Long an Injured Person has to File a Claim?
The amount of time one has to file a lawsuit differs from state to state. For example, Pennsylvania and New Jersey have a two-year statute of limitations for filing a personal injury claim against a non-municipal defendant. New York, however, has a three year statute of limitation for filing a motor vehicle accident claim against a non-municipal defendant. As such, if a car accident victim wants to file a lawsuit in Pennsylvania or New Jersey, he or she must do so within two years of the accident. In New York, one would have three years from the date of the accident to file a claim. Keep in mind that if one wants to file a claim for compensation against a municipality, the length of time to file is much shorter.
While most traffic collisions occur because of negligent driving behavior, there are sometimes other factors that could play a role. Therefore, if you have been injured in an automobile accident it is important to discuss the details of your situation with an experienced car accident attorney as soon as possible who can help you determine if you are eligible to file a claim for financial compensation.