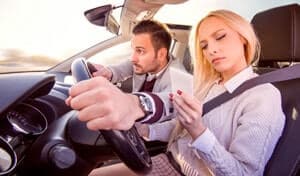 More Distracted Driving Accidents Happen in the Summer Months
Many drivers assume that more auto accidents happen in the winter due to inclement weather and icy road conditions. However, summertime is actually the most dangerous time to be on the road despite the relative lack of hazardous weather conditions.  Statistically, the highest number of car accidents occur each year in August. Why are so many crashes taking place in the summer? One reason is because more drivers are on the roads, and more cars means that there is a higher likelihood of a collision. Furthermore, distracted driving occurs with more frequency from June through August, too, according to a recent article in Star News Online. What is the reason?
The Star News Online article emphasizes that the days and weeks between Memorial and Labor Day are known colloquially as "The 100 Deadliest Days" when talking about teenage drivers. Because most teens are not in school from the end of May to early September due to summer vacations, more young drivers are on the roads and are getting distracted while they are behind the wheel. A recent study conducted by the AAA Foundation for Traffic Safety demonstrated that almost 60% of all car accidents involving teens also involved distracted driving. The Centers for Disease Control and Prevention (CDC) also cites traffic collisions as the leading cause of death for teenagers in the U.S.
What can parents do to prevent summertime car accidents? Be firm with your teen drivers and teach them to avoid smartphone use while they are behind the wheel. Making a single phone call or reading a single text can put your teen—as well as passengers in his or her car and other motorists on the road—at serious risk of a crash. The article emphasizes the need for teens, whenever they drive an automobile, to "put that phone out of reach and ignore it." Much too often, law enforcement officers witness teens texting while driving.  Of course, teens are not the only ones who text and drive. All drivers must put down the phone to avoid the dangers of distracted driving!
Learning More About Distracted Driving 
How often do distracted driving accidents happen, and what kinds of distractions actually result in these serious collisions? According to a fact sheet from Distraction.gov, parents and teens should be aware of the following statistics:
Nearly 3,200 people sustained fatal injuries in distracted driving accidents in 2014, while another 431,000 suffered serious injuries;
Each month, nearly 170 billion text messages are sent in the U.S., and many of these occur while the texting driver is behind the wheel of a car;
At least 10% of all crashes involving teens between the ages of 15 and 19 happen while the teen driver is distracted;
Teen drivers are involved in distracted driving accidents more than motorists in any other age group;
Younger drivers between the ages of 16 and 24 are seen using handheld smartphone to text or engage in other electronic communication at rates higher than motorists in other age groups; and
Smartphone use is not the only form of dangerous distraction, as accidents can be caused by other distractions such as talking to passengers, changing music, using a GPS device, applying makeup, and even changing clothes.
Help keep U.S. roads safer this August. Never text, surf the web, check social media, etc. while driving and teach your teens to do the same.