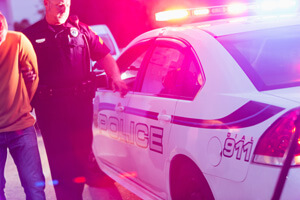 New Jersey State Police Sergeant Charged with DWI After Car Accident 
Everyone knows that drinking alcohol before driving can result in a serious and even fatal car accident. Yet people continue to consume alcoholic drinks before driving, putting others at risk on the road. According to a recent report from NBC New York, a New Jersey State Police sergeant was charged with driving while intoxicated (DWI) after crashing into a car at a rest stop. The sergeant had been working a construction detail at the time of the accident, and reports indicate that he also "allegedly had an open container of alcohol in his patrol car."
In addition to being charged with a DWI, the sergeant faces a careless driving charge and an open container violation. When law enforcement arrived at the scene, the sergeant had a blood alcohol content (BAC) of 0.16, which is double the legal limit. This is not the first time that the sergeant has received traffic summonses. Back in 1983—before he became a police officer—he had his license suspended. Shortly thereafter, he received four separate tickets for "careless driving, speeding, and disregarding a stop sign."
Alcohol-Related Car Accidents: What Do You Need to Know?
Drinking and driving is not only a serious offense that carries significant penalties, it also puts other drivers at substantial risk of injuries in a traffic collision. According to the Centers for Disease Control and Prevention (CDC), impaired driving results in nearly 30 car accident fatalities every day. In other words, every 51 minutes someone suffers a deadly injury as a result of an alcohol-impaired driver.
To get a better sense of how alcohol-impaired driving impacts us each and every day, the CDC provides some important facts and figures:
More than 10,000 people died in 2013 as a result of alcohol-impaired accidents. These crashes accounted for 31% of all traffic-related fatalities in the US.
More than 1,100 children between the ages of 0 and 14 died in car accidents in 2013, and almost 20% suffered deadly injuries in an accident involving a drunk driver. About half of those kids were passengers in the alcohol-impaired driver's vehicle.
More than 1.4 million drivers were arrested for DUIs or DWIs in 2010, but that figure is only a fraction of the number of drivers who self-report having driven under the influence of alcohol or drugs (about 112 million).
If a drunk driver caused an accident in which you or someone you love suffered serious injuries, contact an experienced New Jersey car accident attorney to discuss your case.