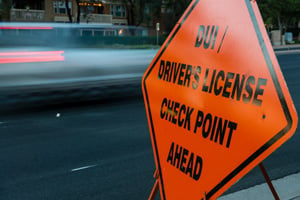 Southeast Pennsylvania DUI Task Forces Crackdown in Five Counties 
Drivers throughout the Philadelphia area were subject to a DUI enforcement campaign in southeastern Pennsylvania last month, according to a recent report from the Haverford-Havertown Patch. The campaign was part of a larger five-county crackdown aimed at reducing the number of drunk
DUI (sobriety) / Driver's License Checkpoint Ahead sign on side of roadway with cars in motion in background approaching checkpoint
driving accidents in Philadelphia County, Delaware County, and Chester County among others.
What did the DUI crackdown look like? PennDOT indicated that more sobriety checkpoints were set up along roads and highways in the five counties in and around Philadelphia, and additional roving DUI patrols were on the lookout for drivers exhibiting signs of intoxicated driving. In total, 70 municipal police departments were involved in the campaign, which was run by the Southeast Pennsylvania DUI Task Force. Currently, the legal alcohol limit in Pennsylvania is .08 BAC unless you are a commercial vehicle driver or a school bus operator. In those cases, the legal limit drops to .04 BAC for commercial vehicle drivers and .02 for school bus drivers. As PennDOT explained, "responsible adults need to be aware of the alcohol content of what they are consuming."
This DUI enforcement campaign is part of a larger initiative to reduce auto accidents in Philadelphia and throughout Pennsylvania. Indeed, it was funded in part by the Pennsylvania Department of Transportation, which distributes about $4.6 million annually in federal funding provided by the National Highway Traffic Safety Administration (NHTSA). The operations of the campaign were also conducted in part by the Pennsylvania High Visibility Enforcement Program, which is, according to NHTSA's website, a "universal traffic safety approach designed to create deterrence and change unlawful traffic behaviors." It aimed to make law enforcement officers highly visible on the roads in order to deter actions such as impaired driving.
Learning More About Impaired Driving 
What do you need to know about impaired driving? According to a fact sheet from the Centers for Disease Control and Prevention (CDC), the following statistics emphasize the severity of drinking and driving:
Around 30 people die every day in car accidents involving a drunk driver.
In 2013 alone, more than 10,000 people suffered fatal injuries in alcohol-related traffic collisions.
Car accidents caused by drunk drivers result in about one-third of all fatal crashes in the U.S. each year.
In 2012, more than 1.3 million drivers were stopped and arrested for impaired driving, but that number only represents one percent of all drivers who self-reported driving while intoxicated.
About one out of every three young drivers involved in fatal crashes had BACs of more than 0.08 (in other words, they were legally intoxicated).
Nearly one-third of motorcyclists who sustained fatal injuries in crashes were legally drunk at the time of the accident.
Drivers with previous DUI or DWI convictions are more likely than other drivers to engage in impaired driving again.
If you or a loved one suffered injuries in a drunk driving related car accident, an experienced car accident attorney can help you determine your rights.