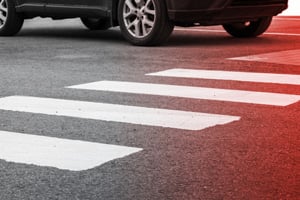 High School Student Sustains Fatal Injuries After Being Struck by Vehicle 
Should New Jersey parents be concerned about the risks of deadly pedestrian accidents involving their teenagers? For most of us, when we think about accident risks for high school students, we tend to think about distracted driving and sports-related injuries. Yet according to a recent article in NJ.com, a 14-year-old football player from Washington Township High School suffered fatal injuries after an automobile struck him. A report in the Courier-Post indicated that high schooler had just bought a Frosty dessert from Wendy's and had planned to wait for the midnight release of a new video game when the car struck him. According to the report, "he was just two feet from the sidewalk . . . when he was hit."
Pedestrian Accident Statistics in New Jersey
What do you need to know about pedestrian accidents? According to a 2013 report from the New Jersey State Police, the following statistics concern pedestrian accidents:
The death toll in auto accidents totaled 132 in 2013.
Of those pedestrians killed, 20 were victims of hit-and-run accidents.
More than 43% of all fatal pedestrian accidents in New Jersey occurred in March.
The months of December through January averaged between 11 and 16 pedestrian fatalities.
In New Jersey, Bergen County recorded the highest number of pedestrian deaths (21). Middlesex County had the second-highest number of deadly pedestrian accidents (15), followed closely by Essex County (13).
A majority of pedestrians killed in 2013 were between the ages of 45-64 (with 46 deaths). The age group with the second-highest number of fatalities was 25-44 (with 27 fatal accidents).
A majority of deadly pedestrian accident victims are male (more than 70%).
Alcohol was a factor in hundreds of deadly auto accidents in New Jersey in 2013. In terms of pedestrian alcohol consumption, 41 of the recorded pedestrian fatalities involved victims who were under the influence of alcohol (or 36.6%).
Most pedestrian fatalities occurred at crossways where crossing is prohibited (55 deaths).
However, the second-highest number of fatalities occurred at marked crosswalks (22 fatalities).
Keep yourself and your children safe. Drivers, always look out for pedestrians. Pedestrians, always pay attention while walking- especially when crossing a street or near a busy intersection. Hopefully, with greater awareness of the prevalence of pedestrian fatalities, we will see the number of pedestrian deaths in NJ decline.