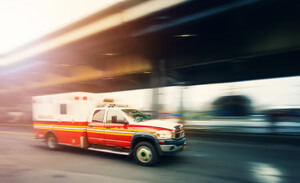 Do emergency medical technicians (EMTs) place themselves at high risk of a job-related injury? According to a recent article in the New York Post, two FDNY emergency responders suffered serious injuries in downtown Brooklyn after their ambulance was struck by another vehicle. The ambulance had been responding to a 911 call when a southbound SUV plowed into it, causing the ambulance to overturn.
The traffic collision occurred right around rush hour at 5:30p.m. on a Friday as the ambulance was exiting from the Brooklyn Bridge. The EMT workers were responding to a separate motor vehicle accident at the time of the crash. The driver and passenger in the SUV also sustained minor injuries and were transported to Cobble Hill Medical Center. The EMTs suffered more severe injuries and were rushed to Bellevue Hospital.
Aside from auto accidents, do EMTs face the possibility of sustaining other kinds of workplace injuries? What are the dangers associated with working in emergency medical services (EMS).
Emergency Medical Services Occupational Injury Risks
According to the Centers for Disease Control and Prevention (CDC), EMS workers are "primary providers of pre-hospital emergency medical care and integral components of disaster relief." Different types of EMS workers include:
Emergency medical technicians (EMTs)
Paramedics
Firefighters
Nurses
While EMTs and paramedics tend to be associated with EMS work, firefighters and nurses are often required to perform EMS duties as part of their occupations. Given the wide variety of tasks often assigned to EMS workers, potentially dangerous duties of the job include but are not limited to the following:
Lifting patients and heavy equipment
Treating patients with infectious illnesses
Handling hazardous chemicals or hazardous bodily substances
Transporting patients by ground and by air
These duties can pose serious risks of injuries and illnesses. The CDC reports that EMS workers "have high rates of fatal injuries and nonfatal injuries and illnesses." The most recent data on EMS injuries and illnesses from 2012 showed that more than 24,000 EMS workers suffered injuries or illnesses that required treatment in an emergency department. A majority of EMS workers who received treatment in emergency rooms for EMS-related work were men (15,900 male workers and 8,300 female workers). More than half of all EMS workers were under the age of 35 years old (about 5,600 workers under the age of 25, and about 7,700 workers between the ages of 25-34).
Work injuries can be serious, particularly when they result from a dangerous car accident. Keep in mind that if you were injured on the job- you may be entitled to more than just Workers Compensation benefits if your injury was caused by the negligence of a third party. Therefore, in the event of a workplace injury, it is always important to contact an experienced personal injury lawyer to discuss your case and determine your rights to financial compensation.