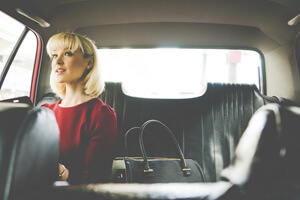 For many residents of urban centers like New York or Philadelphia, using Uber or Lyft—instead of hailing a taxi—has become a relatively common practice. These companies are expanding across the country and the world. But what happens if you are injured in a car accident that occurs while you are a passenger in an Uber car? What are your legal remedies if a Lyft vehicle runs a red light and slams into your automobile? The following information is important to learn to help understand your rights.
Learning More About Uber, Lyft, and Ride-Sharing Services
What are Uber and Lyft? They are car services that tend to provide lower prices than standard taxis. Like many taxicab companies, Uber and Lyft do not own or control the vehicles that pick up passengers. Instead, they hire "independent contractors"—the drivers—to pick up customers and take them to their destinations.
In many ways, Uber and Lyft services work just like taxi services, with just a few key differences. If you want to hire an Uber or Lyft driver, you cannot simply hail a vehicle on the street. Instead, you need to download an app on your smartphone that provides you with instructions for arranging a pickup. The other major difference is the way the pricing works. In general, Uber and Lyft users contend that the services cost less than a standard cab fare.
Liability for Lyft and Uber Accidents
Who is liable when an Uber driver causes a car accident that results in serious personal injuries? In most cases, injury victims should think about proceeding as they would in any other car accident case. In other words, you should be sure to collect the Uber driver's personal contact information and insurance policy information. Just like in any other traffic collision, you should consult with a personal injury attorney who will likely file a claim against the Uber driver's insurance company and any and all other parties responsible for the collision.
Generally speaking, Uber and Lyft drivers must have their own personal insurance policy when they are in their for-hire vehicles, including while they are driving paying passengers. The companies Uber and Lyft do provide $1,000,000 per accident of insurance coverage, but the amount available to passengers can vary with different factors. For instance, some insurance companies do not want to cover individual drivers who get into an accident when they are working as a "for-hire" driver. Therefore, in the situation in which the driver responsible for the accident was on the clock—such as working for a delivery company—the injury victims would ordinarily seek additional compensation from the employer. However, Uber and Lyft argue that they are not "employers" when it comes to their drivers. Uber and Lyft emphasize that their drivers are independent contractors, which means that the company is not responsible for the driver's behavior. As such, if injured passengers are not able to obtain full compensation through the driver's personal insurance, they may have a difficult time filing a claim against one of these ride-sharing companies.
A number of Uber employees are currently trying to change this classification. They have filed a lawsuit contending that they are actually "employees" instead of "independent contractors," and thus Uber can be liable for accidents that occur while drivers are on the clock.
Seek Assistance From a Car Accident Lawyer
We will need to wait and see whether any changes occur with regard to the employment status of ride-sharing drivers. In the meantime, if you or someone you love suffered injuries in a traffic collision caused by an Uber driver, contact an experienced car accident lawyer to determine your rights.