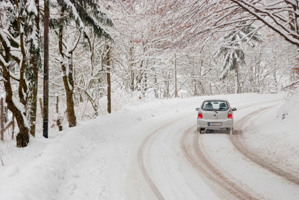 Here in New York and New Jersey we have to worry about something that those who live in warm climates often do not – winter weather conditions. Our attorneys at the Rothenberg Law Firm want to make sure that you are safe this wintry season. Make sure that your car has been maintained and cared for and that your tires do not need to be replaced. Having tires that can thread through the snow can help prevent you from getting into an unfortunate accident. Make sure that you have effective window wipers that allow maximum visibility during bad weather. Also, be sure to clean your car out entirely in the event of snow so as to not hinder the sight of other drivers who are behind you. Taking these preliminary measures as well as driving slowly and attentively can prevent a majority of accidents and injuries that occur in the winter in two busy states – New York and New Jersey.
We have unfortunately seen a number of victims injured from accidents that could have been preventable. Our condolences go out to the family members of victims who have lost their lives in a deadly crash. You may have read about some of these tragedies in the news. For instance, an accident occurred in New Jersey on November 7th that led to the death of two people. As reported by the New Jersey State police, the "driver was speeding on the icy road, lost control of the car and crashed into another vehicle." The driver and the passenger were declared dead at the scene of the accident. The driver of the vehicle that was hit by the speeding vehicle was transported to the local hospital for medical care. The police indicated to NBC news that the "snow-covered roads contributed to the death of [the] two people."
Accidents such as these are devastating to the families of the victims involved, especially when knowing that the accident could have been prevented. Roads such as the U.S. 206 in Burlington, New Jersey, where the accident occurred, would have ideally been cleared or closed to protect drivers from such fatal accidents.  Unfortunately, only busy intersections are often cleared and smaller roads usually don't get tended to until after it has stopped snowing. If you must go out during a snowstorm, be sure to drive slowly and try to take a vehicle that can handle such weather conditions. If you can avoid going out, then stay home and wait until the roads are clear.
Such precautionary measures, although they may seem a little extreme, can potentially save your life. If you or a loved one is injured during this winter, you should consider discussing your particular situation with a personal injury attorney who may be able to help you receive financial compensation for your injuries.