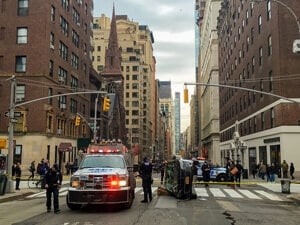 Rise in Traffic Deaths May be Linked to Poor Driving Safety Laws, Says Recent Study
Could inadequate or limited driving safety laws be playing a causal role in the rise in traffic fatalities? According to a recent article from CBS News, a new study indicates that "a lack of driving safety laws could help explain the surging number of people killed in accidents." In order to determine whether there is a link between limited driving safety laws and car accident fatality rates, the study explored traffic laws in certain states and then matched them up to reported rates of motor vehicle deaths.
What did the study show? 
17 states across the country are "dangerously behind in adopting optimal laws" that could reduce the rate of deadly car accidents. While many states have some laws concerning texting while driving, there are still a number of states in which there is no ban on all texting activity behind the wheel. For instance, some states ban texting for drivers under the age of 18 while permitting texting for older drivers. In other states, texting while driving simply is not banned in any capacity. Also, there are a number of states in which seatbelt use is required, but it is only a secondary offense rather than a primary offense. This means that a driver who fails to wear a seatbelt cannot be pulled over solely for his or her failure to buckle up. In states with primary seatbelt enforcement, a driver can be stopped simply for failing to use a seatbelt. 
The study was conducted by the Advocates for Highway & Auto Safety, and the report that emerged from it is entitled, "2017 Roadmap of State Highway Safety Laws." According to Jackie Gillan, the current president of the Advocates for Highway & Auto Safety, much of the impetus for changing the law needs to come from a change of mind in state legislatures.
Preventing Auto Accident Deaths in 2017
In addition to bans on texting while driving and bans on general cell phone use if you are behind the wheel, what are the other major safety measures that states across the country could take to help reduce the rate of severe car accidents? The study cites some of the following:
Primary enforcement seatbelt laws;
Graduated driver licensing programs for teens;
All-rider motorcycle helmet laws;
Booster seat laws (for children who have outgrown child seat law requirements); and
Required ignition interlock devices for drivers with a record of DUI.
The report also cites statistics surrounding accident deaths in 2015. That year, more than 35,000 people died in traffic collisions. That number represents a 7.2% increase from 2014 and is being cited as "the largest percentage increase in nearly 50 years." The following rising fatality rates highlight the problem:
Distracted driving crashes leading to fatalities rose by 9%;
Alcohol-impaired fatalities increased by 3%;
Excessive speeding crash deaths increased by 3%;
Vehicle occupant fatalities without seatbelt use rose by 5%;
Teen occupant deaths (under 16 years old) rose by 6%;
Motorcyclist deaths increased by 8%;
Teen driver deaths were up by 10%;
Pedestrian fatalities increased by 10%; and
Bicyclist fatalities were up by 12%.
Tougher safety laws may help reduce fatal car accidents- but it is also up to all drivers to protect themselves, their families and everyone else on the road. Never text and drive and always buckle up! If you have been injured as a result of someone else's distracted driving, contact an experienced car accident lawyer to determine your rights.