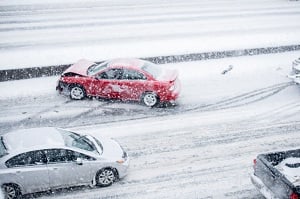 Icy Roads to Blame for Recent New Jersey Fatal Car Accident 
Most residents of the northeastern United States know that snowy or icy driving conditions can pose serious risks of injury and even death in car accidents. According to a recent article in NJ.com, a fatal car accident that occurred in Salem County at the end of last month likely resulted from icy roads. Authorities indicated that ice on the roadway led to the accident.
This recent auto accident is not the first in New Jersey to result from icy roads or otherwise inclement weather conditions. A report from CBS New York emphasized that low temperatures in certain parts of New Jersey, combined with recent rainfall, have been making for slippery driving conditions. For example, icy roads in the southern part of the state resulted in a large-scale accident scene involving about 20 different vehicles.
Weather-Related Accident Facts and Prevention
How often do weather-related car accidents happen, and how can we prevent them? According to a fact sheet from the U.S. Department of Transportation and the Federal Highway Administration (FHA), winter weather conditions can significantly impact highway safety. The following weather conditions regularly play a role in auto accidents in New Jersey and throughout the country:
Air temperature and humidity;
Wind speed;
Precipitation, including rain, sleet, and snow;
Fog;
Pavement temperature;
Pavement condition, including icy roadways; and
Water level.
What kind of impact do these weather conditions have? According to the FHA, the following facts and figures help to give a picture of the prevalence of weather-related traffic collisions:
About 22% of all car accidents are related to bad weather (or, almost 1,259,000);
Approximately 6,000 auto fatalities result from weather-related accidents each year;
Around 445,000 people sustain injuries in auto accidents related to inclement weather;
73% of weather-related accidents occur on wet pavement, with around 46% happening while it is raining;
17% of weather-related accidents happen when it is snowing or sleeting;
Icy pavement cause about 13% of all auto accidents; and
Around 3% of all weather-related accidents happen during fog.
How can we prevent weather-related car accidents? The best prevention method is to avoid driving during a storm or while road conditions are not safe. If you must drive, however, take extra caution on the road!