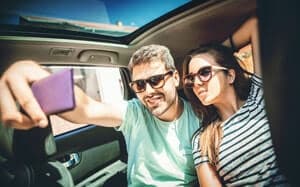 In 2016, it has become normal to post details about even the smallest details of your life on social media for many to see. A review of an average Facebook feed may include pictures of someone's breakfast, lunch, and dinner, details about someone's shopping trip to the grocery store, or even a link to a video with the events of the day.
With people sharing such mundane events on a regular basis, involvement in a car accident may seem undoubtedly "social media share-worthy." As much as one may want to share and discuss a car accident on social media, is it a good idea to do so?  Discussing a car accident on social media may harm a victim in the long run should he or she seek to recover compensation for injuries sustained as a result of the car accident.
To understand why, it is important to keep in mind that insurance companies try to pay as little as possible to compensate individuals for their injuries. Therefore, attorneys representing the negligent party will use every possible social media post available as evidence against a potential plaintiff.  Moreover, one can never assume that privacy settings will prevent investigators from finding social media posts.
The following are two of the ways in which social media activity could affect the ability to recover compensation:
 Posts May Inadvertently Imply Negligence
One way that social media posts could hurt a potential plaintiff is if a post can be construed as he or she is conceding full or partial liability for the accident. For example, if an injured driver who was rear-ended on the NJ Turnpike posted something that indicated that he may have been tired after a long day of work, the insurance company (or the other party) could potentially use something as innocuous as "Got rear-ended today after long day at work…" as evidence that the injured driver's tiredness may have contributed to the accident.
Posts May Make An Individual Look Less Injured
Furthermore, posts may also be used to argue that the victim's injuries are not as serious as he or she claims. For example, if the injured driver in the above example sustained a fractured arm/leg and these injuries are affecting his ability to perform daily tasks and that he is in so much pain that he is having difficulty in every aspect of his life- a smiling picture that the injured driver posted out at a bar or restaurant with friends may be used as evidence to establish that he may be overstating the extent of his injuries.
Whether you post about an accident or post about your daily activities, it is important to keep in mind the fact that Social Media posts are never private and can always be misconstrued if understood in the wrong way.