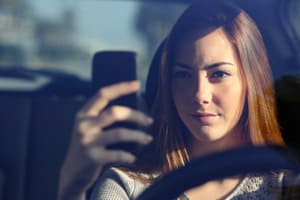 Distracted Driving Can Be Deadly
Most of us know that distracted driving is a serious problem in our country. Although many non-technological distractions exist when we are behind the wheel, the advent of smartphone technology has greatly increased the risk of a distracted driving accident. According to a recent article in the Huffington Post, a distracted bus driver was responsible for a deadly collision that involved two school buses.
An investigative report determined that the driver had been "sending and receiving text messages . . . when he suddenly made a sharp left turn, crossed the concrete median, and smashed into another school bus, flipping it onto its side." Many of the school bus passengers sustained serious injuries, and a teacher's aide, along with two young children, suffered fatal injuries. The driver also suffered serious injuries that ultimately led to his death months after the crash occurred.
In the wake of the fatal accident, many safety groups have emphasized the fact that texting-while-driving penalties are not sufficient to deter this behavior in the future. Under New York law, for example, a first violation for handheld cell phone use or texting comes with a minimum $50 and maximum $150 fine. For a second offense, the minimum penalty remains at $50, while the maximum increases to $250 if committed within 18 months. For a third or any other subsequent offense committed within 18 months, the minimum remains at $50 and the maximum is $450.This fine schedule looks quite similar to those in other states when it comes to banning cell phones for those behind the wheel. Safety advocates do not think these kinds of penalties are enough to "curb the behavior of distracted drivers."
According to a national opinion survey conducted by the AAA Foundation in 2014, more than 96 percent of those surveyed "said they consider it unacceptable for a driver to type a text or email while driving." However, "36.1 percent of those same drivers admitted to reading a text or email while driving in the past 30 days, and 8.6 percent said they did so fairly often or regularly."
Distracted Driving Facts and Figures
The Centers for Disease Control and Prevention (CDC) identifies distracted driving as a deadly problem throughout our country. Moreover, a recent CDC study indicated that U.S. drivers tend to talk and text on their phones much more often than drivers in Western Europe. Statistics show that every day in the U.S. "more than 9 people are killed and more than 1,153 people are injured in crashes that are reported to involve a distracted driver."
The CDC indicates that three primary types of distraction exist:
Visual distraction, or taking your eyes off the road;
Manual distraction, or taking your hands off the wheel; and
Cognitive distraction, or taking your mind off your driving task.
What happens when drivers experience visual, manual, or cognitive distraction? Serious and fatal crashes occur!
The following facts and figures are important for understanding the extent of the distracted driving problem in America:
More than 3,300 people died in distracted driving accidents in 2012 and about 421,000 suffered serious injuries. The latter number represents a 9 percent increase from 2011, in which 387,000 people suffered injuries in a distracted driving accident.
Based on data from 2011, about 20 percent of all serious car accidents involve a distracted driver.
Nearly 70 percent of American drivers between the ages of 18-64 reported talking on their cell phones while driving in the 30 days before they responded to the survey.
More than 30 percent of U.S. drivers between the ages of 18-64 reported sending or reading text messages or email while driving in the 30 days before they responded to the survey.
Distracted driving is a deadly problem in our country, and many of us may be implicated. If you or someone you love sustained injuries in a car accident caused by a distracted driver, you may be eligible to seek financial compensation. Contact an experienced car accident lawyer as soon as possible to discuss your rights.