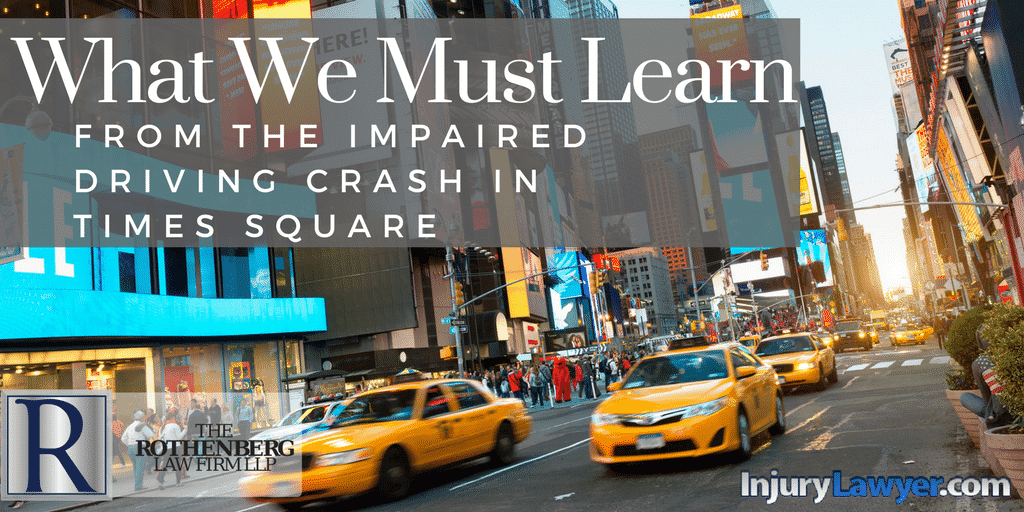 Impaired Driver Causes Deadly Accident in New York City's Times Square
When most of us are walking in Midtown Manhattan, we are not expecting to be struck by a car operated by a drunk or otherwise impaired driver. While many New Yorkers understand the serious risks of pedestrian accidents when crossing the street at a busy intersection or while walking at dusk, we rarely anticipate an impaired driver barreling into a crowd on a sidewalk. However, as a report from ABC News explains, a drugged driver in Times Square "steered his car onto a busy sidewalk and began barreling through crowds of pedestrians, running down 23 people and killing one before . . . metal posts final stopped him."
Those steel posts, which are approximately 8.5 inches in diameter, were installed to help prevent injuries in the event of a terrorist attack. A total of 200 were placed around Times Square about four feet apart from one another. Indeed, officials installed the posts recently, which are "capable of stopping a speeding vehicle."
This incident, however, was not an act of terrorism. Rather, it was a preventable accident caused by impaired driving. This type of accident should never have happened! Unfortunately, this tragedy did occur and we must learn from it that no matter what-no driver should ever get behind the wheel if he or she has taken any drugs, including prescription drugs that may impair his or her ability to drive safely.
The driver, 26-year-old Richard Rojas, had been driving a Honda Accord when he crashed into the crowd, killing one pedestrian and injuring nearly two dozen more. Rojas tested positive for PCP following the crash, according to a report from CNN News. He was arrested previously, in 2015 and 2018, for drunk driving. The accident happened during daylight hours when crowds of people were walking through Times Square. As the CNN News report emphasizes, Times Square is "one of the most visited locations in the world" and averages around 360,000 visitors each day in April.
Getting the Facts About Impaired Driving and Drugged Driving
Driving under the influence of alcohol or illegal drugs can result in serious and fatal car accidents. There is no way around this fact and the terrible tragedy in Times Square should never have happened and hopefully, will never happen again.
As a fact sheet from the national Institute on Drug Abuse explains, the "use of illicit drugs or misuse of prescription drugs can make driving a car unsafe—just like driving after drinking alcohol." The fact sheet provides the following statistics about impaired driving that results from taking drugs before getting behind the wheel:
According to the National Survey on Drug Use and Health (NSDUH), about 10 million people aged 12 and older self-report driving under the influence of illegal drugs;
Marijuana is the most common drug found in drugged driving accidents;
Some studies suggest that drivers with THC in their blood are about twice as likely as those without drugs or alcohol in their systems to be involved in a fatal car accident;
After marijuana, prescription drugs are also commonly found in drugged driving accidents;
About 47% of drivers involved in drugged driving crashes tested positive for prescription drugs;
Around 37% of drivers involved in drugged driving accidents tested positive for marijuana; and
About 10% of drivers involved in drugged driving accidents tested positive for cocaine.
Never drive if you are under the influence of any drug. In the event that you or someone you love suffered injuries in a car accident caused by an impaired driver, contact a car accident attorney to determine your rights.