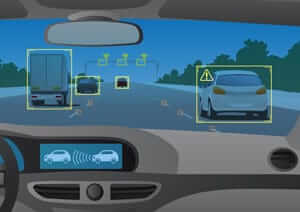 Making Driving Safer with Connected Automobiles
What is V2V technology, and how can it help to reduce the rate of serious car accidents? According to a press release from the U.S. Department of Transportation (DOT), vehicle-to-vehicle communication, also known as V2V, "allows cars to 'talk' to one another—exchanging basic safety-relevant data, such as speed, direction, and relative position—10 times per second." How could this type of communication help in traffic collision avoidance? If vehicles are able to "talk" to one another "at such a fast rate" as the press release explains, then cars would have the ability to "see all of the vehicles around them, sense the possibility of a crash, and warn drivers to avoid the crash."
Another recent article in Network World explained that V2V communication has been in development for quite a long time, yet it is only now coming to fruition in certain vehicles. As the article makes clear, there are ongoing debates "about how exactly to implement this technology." The National Highway Traffic Safety Administration (NHTSA) expects that the implementation of V2V could reduce auto accidents by anywhere from 70 to 80% every year. As such, the DOT press release emphasizes that NHTSA has decided "to begin taking the next steps toward implementing V2V technology in all new cars and trucks."
Some vehicles have "smart" technology that represents first steps toward V2V technology, such as rear-assist backup or blind-spot warning systems. Like V2V, these forms of technology help a vehicle understand everything that is around it and to take steps to avoid an accident. V2V would "extend visibility beyond line-of-sight to vehicles further down the road," explained Sam Abuelsamid of Navigant Research, cited in the Network World article.
How would the V2V technology work in practice? Somewhat similar to other forms of automated technology, the automobile would alert the driver to a potential risk, allowing the driver to take action to avoid an auto accident. Similar alerts could be sent to self-driving cars. Researchers imagine V2V technology as beneficial both to traditional vehicles with human drivers and to self-driving, or automated, cars.
Car Accident Facts and Figures
Why do we need to continue thinking of ways that technology can prevent auto accidents? Too many traffic collisions result in fatalities each year. According to a fact sheet from the Insurance Institute for Highway Safety (IIHS), the following facts and figures show how carefully we need to consider auto accident prevention:
In 2014 alone, nearly 30,000 fatal car accidents occurred, which resulted in the deaths of 32,675 people;
There are 10.2 auto accident deaths for every 100,000 people, or 1.08 fatalities for every 100 million vehicle miles that are traveled;
Hopefully, the new V2V technology will help prevent car accidents in the future.