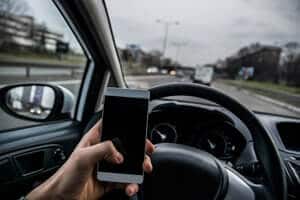 Study Suggests that Smartphone Apps Present Greater Danger than Texting
According to a recent study reported by New Jersey 101.5, most New Jersey parents and teens know about the risks associated with texting while driving, yet many of those same individuals do not realize that other distractions can be even more hazardous. The report indicates that a study determined that "while 27% of teens continue to text while driving, about 2 out of 3 admit they're using apps while operating a motor vehicle to look at and post messages on Facebook, or use things like YouTube, Snapchat, Twitter, Instagram, and Pokemon Go." In other words, using smartphones for reasons other than texting might be the next big problem when it comes to distracted teen driving.
In addition to the disconcerting fact that so many teens are using social media apps while they are behind the wheel of a car, what is more problematic is that most of the teens studied believed that "looking at or posting to social media apps is less dangerous than texting or consuming alcohol while driving." Teens surveyed in the study indicated that they were at less risk of being involved in a crash by posting to or reading social media apps than if they were using their cell phones to read or send text messages. According to Pam Fisher, the former director of the New Jersey Teen Safe Driving Coalition, "the results of the study are scary."
Why do teens think it is safe to use social media apps while they are driving? According to Fisher, "what's happening is teens are really good at using social media very quickly and they may say, well, it's only taking me a matter of a second or two or three to do this." However, what those teen drivers fail to realize, Fisher underscores, is that a deadly distracted driving collision can occur if you take your eyes off the road for only a second or two.
Distracted Driving Accident Prevention 
Each year, the number of auto accident fatalities linked to distracted driving rises. In 2014, just over 23% of the car crash deaths reported by the National Highway Traffic Safety Administration (NHTSA) involved a distracted driver. That number represented a significant increase from the previous year in which distracted driving fatalities only accounted for just over 12% of the total traffic deaths reported by NHTSA.
What can we do to help prevent distracted driving?
#1- Warn your teens that using their phones while driving is dangerous, no matter how fast they can post, read another post, etc.
#2- Model good behavior.  Adults must also avoid using their phones while driving!