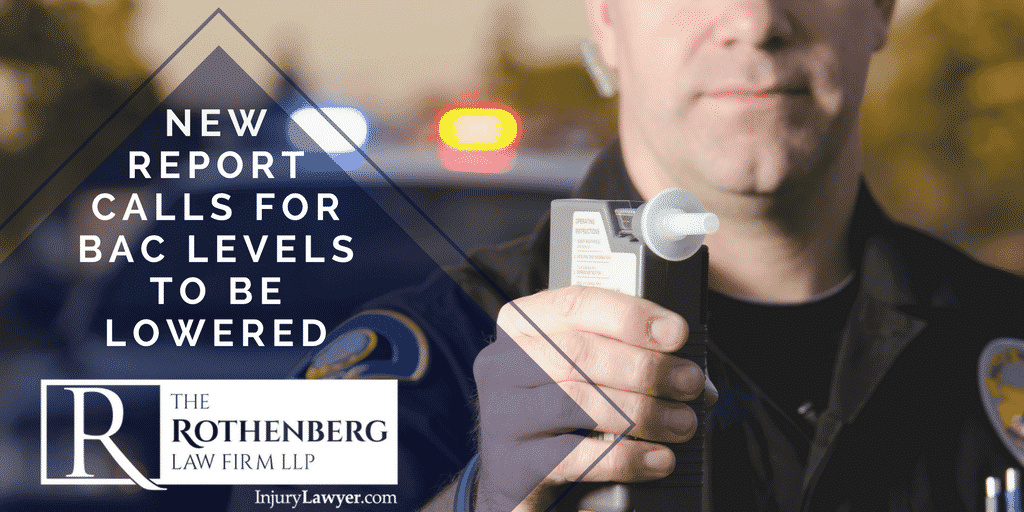 Lowering Legal BAC Levels Could Reduce the Rate of Drunk Driving Crashes
Will lowering the blood alcohol concentration (BAC) below 0.08%—the legal limit—actually prevent more impaired driving crashes? According to a recent news release from The National Academies of Science, Engineering, and Medicine, legal BAC limits should be lowered across the country in order to reduce the rate of drunk driving accidents. As the news release underscores, there are more than 10,000 deaths every year in the U.S. that occur as a result of alcohol-impaired crashes. Despite other efforts to reduce the number of drunk-driving deaths, these fatal crashes continue to happen. Therefore, we need to think about different policies that could actually lower the rate of alcohol-impaired collisions.
The National Academies of Science, Engineering, and Medicine has issued a report that recommends lowering the BAC level at which a person can be cited for driving under the influence of alcohol. Specifically, a committee conducted a study and recommended "lowering state laws criminalizing alcohol-impaired driving from 0.08 to 0.05% blood alcohol concentration." In addition, the report suggests that increasing taxes on alcohol and requiring "all-offender ignition interlock laws" could reduce drunk driving crashes. Finally, the report also recommends "providing effective treatment for offenders when needed."
According to Steven Teutsch, one of the authors of the report and a senior fellow at the Public Health Institute and the Leonard D. Schaeffer Center for Health Policy and Economics, we need to change the way we handle drunk-driving prevention. As Teutsch contends, "the plateauing fatality rates indicate that what has been done to decrease deaths from alcohol-impaired driving has been working but is no longer sufficient to reverse this growing public health problem." The report, he suggests, provides clear methods for states to stop drunk driving accidents from happening.
Getting the Facts About Alcohol-Impaired Driving
Although it may be difficult for some drivers to know if they have consumed enough alcohol to be legally impaired if the limit were lowered - it may be well worth it!. The following facts and figures from the U.S. Centers for Disease Control and Prevention (CDC) highlight the severity of alcohol-impaired collisions:
10,265 people died as a result of drunk driving in the U.S. in 2015, accounting for nearly 30% of all traffic fatalities;

16% of all traffic fatalities involving children resulted from drunk driving;

About 1.1 million drivers were arrested for DUIs/DWIs in 2015, but that number represents only 1% of the total number of people who self-report drunk driving;

Around 112 million people self-report driving under the influence of alcohol every year;

Approximately 30% of drunk drivers involved in fatal collisions in 2015 were young drivers between the ages of 21 and 24;

27% of motorcyclists killed in deadly collisions had a BAC at or above 0.08%; and

Drunk drivers involved in a fatal crash are 4.5 times more likely to have a prior conviction for a DUI/DWI.
Never Drink and Drive!! In the unfortunate event that you or someone you love got hurt in a crash caused by a drunk driver, contact a drunk driving accident lawyer to discuss your situation.