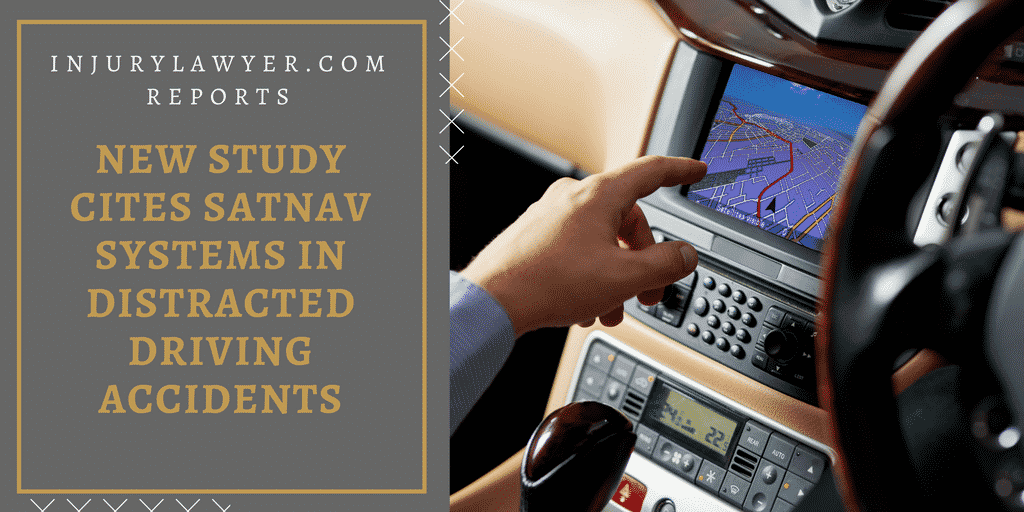 Do you use your SatNav, or satellite navigation system, while driving? If you do, you are not alone. While navigation systems can be very beneficial, it is important to recognize that this practice can be extremely dangerous and can result in a severe or fatal traffic collision if not used safely. According to a recent article in MarketWatch, a new study suggests that "the most distracting task while driving is not using your cell phone." Rather, one of the most dangerous things you can do behind the wheel in terms of distracted driving is to program your satellite navigation system while driving.
Researchers at the University of Utah reported that "many in-built features in the latest crop of cars are so distracting they should not be enabled while a vehicle is in motion." The study was conducted by psychology researchers who determined that any in-vehicle information system has the potential to result in a distracted driving accident. The most distracting and hazardous in-vehicle information system is a navigation tool and it can be more dangerous than talking on a handheld cell phone or texting while driving. According to the study, the most distracting tasks in which a driver can engage behind the wheel include the following:
Programming a navigation system;
Sending or reading a text message;
Using an audio entertainment system; and
Making handheld phone calls.
When is SatNav the most dangerous in connection to car accident risks? Typically, these in-vehicle systems cause crashes when a driver uses them while in motion. According to David Strayer, the lead author of the study, "with the best intentions, we will put technology in the car that we think will make the car safer." However, as Strayer goes on to clarify, "people being people will use that technology in ways that we don't anticipate." This study was conducted for the American Automobile Association Foundation for Traffic Safety.
Get the Facts About Distracted Driving
What should you know about distracted driving crashes? The following facts and figures come from the National Highway Traffic Safety Administration (NHTSA):
Distracted driving resulted in nearly 3,500 fatalities in 2015;
391,000 people sustained serious injuries in a motor vehicle crash in 2015 involving a distracted driver; and
Distracted driving crashes result from many different types of distractions. Any non-driving activity—taking your hands off the wheel, taking your eyes off the road, and even taking your mind off the task of driving—can lead to a serious or deadly crash.
If you were injured in a crash caused by a distracted driver, contact a car accident lawyer to discuss your case.