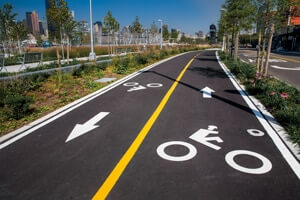 Vision Zero Plan Involves Making Crosswalks, Bicycle Lanes, and Medians Safer 
How safe are pedestrians and bicyclists in New York City? Given the number of pedestrian and bicycle accident fatalities, there is a need to do more to improve safety in the city. Mayor de Blasio's Vision Zero plan involves a number of different phases, and the most recent project to come out of the plan is "aimed at making crosswalks, medians, and bike lanes safer," according to a recent article in DNAinfo.com. According to the article, the city is breaking ground on new construction projects that will involve creating new crosswalks altogether, widening sidewalks to give pedestrians more space, and developing bike lanes on streets where they do not currently exist.
Where are these construction projects happening? According to the report, they will be taking place in all five boroughs of the city. Therefore, residents in the Bronx, Manhattan, Brooklyn, Queens, and Staten Island can expect to see infrastructure changes that are designed to reduce the risk of pedestrian and bicycle accidents throughout the city. While statistics from the New York Department of Transportation show that the rate of pedestrian fatalities has declined slightly from this same time last year, the number is still much higher than it should be at 25 deaths thus far in 2017.
The NYPD has been cracking down on drivers who violate traffic laws that put pedestrians and bicyclists at risk as a part of a recent safety initiative. For instance, during the period from March 6 through March 12, the NYPD issued nearly 2,000 summonses for failure-to-yield, as well as 15,497 summonses to drivers who blocked bicycle lanes, and more than 12,000 other traffic summonses connected to the aims of the Vision Zero program.
What kinds of safety changes will be made in each borough of New York? In Manhattan, construction projects will create protected bike lanes, new pedestrian spaces, new visual markings for traffic, and shorter crossings. In Brooklyn, the entrance to the Brooklyn Bridge for pedestrians and bicyclists will be widened and crosswalks will be added. The borough will also see new "parking-protected bike lanes and painted pedestrian refuge islands." Construction will also elevate medians to make them safer places for pedestrians.
Get the Facts About Pedestrian and Bicycle Accidents 
How often do pedestrian accidents and bicyclist injuries occur? A fact sheet from the Pedestrian and Bicycle Information Center cites the following statistics:
5,376 pedestrian were killed in motor vehicle crashes in 2015;
818 bicyclists sustained fatal injuries in collisions with motor vehicles in 2015;
Pedestrian fatalities have risen by more than 12% between 2006 and 2015;
Pedestrian fatalities account for 14% of all traffic accident deaths;
Getting hit by a car accounts for about 12% of all pedestrian accidents;
A majority of pedestrian and bicycle accidents occur at dusk when there are many drivers headed home from work (between the hours of 6:00 p.m. and 9:00 p.m.); and
More than 70% of all bicycle fatalities occur in urban areas.
It is important to pay attention to your surrounding at all times if you are walking or bicycling in New York. In the event that you were injured in a motor vehicle collision, contact an experienced accident attorney to determine your rights.