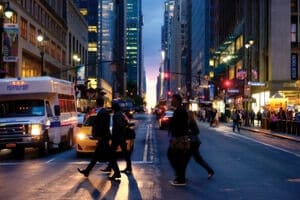 Deadly Pedestrian Accidents Increase at End of Daylight Savings Time
Did you know that more pedestrian accidents happen after Daylight Savings Time ends and the days grow darker earlier in the evening? According to a recent article from CBS New York, data gathered between the years of 2010 and 2014 suggests that "there's a spike in the number of pedestrian deaths on new York City streets right after Daylight Savings Time ends." This time of the year means that the sun will begin setting on the east coast earlier than 5:00 p.m., which is a peak hour for pedestrian accidents. According to Polly Trottenberg, the current Transportation Commissioner in NYC, "severe and fatal injuries for pedestrians climb 40% in the late afternoon and early evening hours from November through March."
As the article underscores, a high number of pedestrians tend to be on New York City streets just around 5:00 p.m. and shortly thereafter as the workday comes to an end. Yet as pedestrians walk from places of employment to a subway station, for instance, darker evenings can make those paths dangerous. An article from WebMD declares that millions of Americans have night vision problems. In some cases, physicians refer to this phenomenon as "night blindness," and it can result in blurry vision when it is dark outside. This is a particular problem for many older drivers. Even if you do not have aging eyes, it can still be more difficult to see where you are going—and to avoid obstacles—when your surroundings are dark.
What is New York City doing to combat this problem? According to the article, New York City is making certain logistical changes that will help with pedestrian safety, such as installing new streetlights that are "brighter LED street-lighting. The NYPD plans to take on a more important role as officers will remind drivers and pedestrians alike about the dangers of nighttime driving by handing out cards, and  "target drivers who speed, fail to yield to pedestrians, text behind the wheel, and block bike lanes."
Safety Tips for Driving at Night 
What steps can you take to make driving at night safer for yourself, as well as for pedestrians on the road? A fact sheet from the National Safety Council (NSC) points out that both fatigue and darkness often make driving at night more difficult. Recognizing these issues, the NSC recommends the following safety tips:
Sleep at least seven to nine hours each night;
Stop to rest if you have been driving for more than two hours at a time or if you get tired;
Ensure that your headlights on your car are clean;
Clean your windshield to get rid of streaks;
Be sure to aim your headlights properly;
Dim the lights on your dashboard;
Wear anti-reflective glasses at night;
Drive more slowly than usual; and
Have annual vision exams.