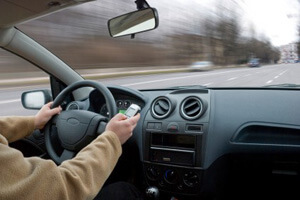 NY's Texting Zones – "It Can Wait"
In an effort to combat texting and driving in the state of New York, a recent
article in ABC news reported that Governor Andrew Cuomo plans to create "texting zones" throughout the Empire State.  Even though textin
g and driving is dangerous and illegal, many drivers continue to distract their attention away from the road and opt to send and read text messages while at the same time operating their vehicle.
Therefore, highway rest stops may soon offer relief of a different nature, as texting zones will be added to already existing rest stops along the state's thoroughfares.  The aim is to ultimately create safer roads.  New York's designated texting zones will hopefully ease motorists' temptations to text and drive and offer a safe place to park and text.  NY State officials note that 91 texting zones will be created on its major highways.  Additional signage will also be added to rest stop areas.  Slogans such as, "It can wait:  Text Stop Five Miles," will indicate the texting zone locations.
If you're shopping today, focus on driving to the next deal safely, not texting on your phone. #distracteddriving

— NHTSA (@NHTSAgov) November 29, 2013
Is Texting and Driving Really that Dangerous?
Distracted driving includes any type of activity that may redirect a driver's attention away from operating his or her vehicle. The Centers
for Disease Control and Prevention (CDC) highlights three primary types of distractions while driving:
Visual – occurs when a driver does not keep his or her eyes on the road;
Manual – occurs when a driver takes his or her hands off of the steering wheel; and
Cognitive – when a driver does not focus on driving but rather focuses his or her thoughts on another activity.
Texting and driving is extremely dangerous because the three distractions mentioned above are all involved when a motorist texts.  According to Distraction.gov, the official US government website dedicated to distracted driving:
"Sending or receiving a text takes a driver's eyes from the road for an average of 4.6 seconds, the equivalent – at 55 mph – of driving the length of an entire football field, blind."
Bans on Texting and Driving
The introduction of texting zones is thus far a unique approach to curtail texting and driving.  Currently 41 states, including New York, ban texting and driving.
Penalties for texting while driving in New York are as follows:
First offense -- $150 fine and five points on driver's license.
Second offense -- $200 fine.
Third offense -- $400 fine.
All but four of the states that ban texting have primary enforcement – which allows law enforcement agents to stop and issue citations if someone is observed texting and driving.  No other offense (e.g., headlight out, speeding, etc.) is needed to stop the driver.  New York is a primary state and therefore, anyone who texts and drives can be pulled over by a police officer even if he or she has not committed any other offense.
We will remember Maria through http://t.co/qtp5F2DoHi We will encourage defensive driving & discourage distracted driving.

— DOM TIBERI (@DOMTIBERI) November 25, 2013
Legal Assistance
Despite states' efforts to put an end to texting while driving – drivers continue to take the dangerous risk and often times the result is tragic.  If you suffered a personal injury as a result of an automobile accident involving a distracted driver you should contact an experienced personal injury attorney to discuss your rights.