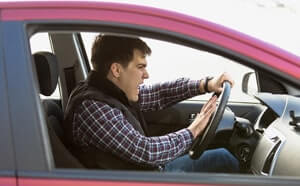 AAA Study Suggests that Aggressive Driving May Cause More Auto Accidents
Have you ever become angry on the road and cut off another driver? Have you attempted to change lanes only to discover that another driver refuses to let you into his or her lane? According to a recent study conducted by the AAA Foundation for Traffic Safety, aggressive driving is more common than you might think. If you are living or working in the Northeast, you should pay particular attention. In response to the study, an article in the Bucks County Courier Times reported that drivers in the Northeast are among the most aggressive in the country. Unless aggressive driving behaviors are reduced, serious and fatal auto accidents can occur.
As the AAA study reports, almost 80% of drivers surveyed "expressed significant anger, aggression, or road rage behind the wheel at least once in the past year." Yet that is not the only startling information to come from the study. "The most alarming findings suggest that approximately eight million U.S. drivers engaged in extreme examples of road rage, including purposefully ramming another vehicle or getting out of the car to confront another driver."
The study's data showed that drivers in the Northeast are more prone to aggressive driving than those in other regions of the country. For example, drivers in the Northeast are currently about 30% more likely to make an angry gesture toward another driver than are motorists in other cities and states. The AAA study surveyed more than 2,700 drivers aged 16 and older who had driven in the last 30 days to conduct its study.
Getting the Facts About Aggressive Driving
What are some of the most common aggressive driving behaviors? According to the AAA study, the following are aggressive behaviors that could lead to serious car accidents:
Intentionally tailgating (51% of drivers, or about 104 million drivers);
Yelling at other drivers (47%, or 95 million drivers);
Honking in anger or annoyance (45% of drivers, or 91 million people);
Making angry gestures at other drivers (33%, or 67 million drivers);
Attempting to block another vehicle from changing lanes (24% of drivers);
Intentionally cutting off another motorist (12%, or 24 million drivers);
Getting out of the car to confront another motorist (4% of drivers, or 7.6 million); and
Intentionally bumping or ramming another car (3%, or 5.7 million drivers).
Are some drivers more likely than others to engage in aggressive driving? The study reports the following risk factors:
Men are more likely to engage in aggressive driving than are women;
Younger drivers between the ages of 19-39 are more likely to drive aggressively than are older drivers;
Northeastern drivers engage in certain aggressive behaviors more frequently than motorists in other parts of the country; and
Drivers who engage in other risky behaviors, such as speeding, are more likely to engage in aggressive driving actions.
Help keep the roads safe-avoid aggressive driving!