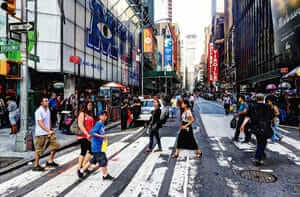 NYC Department of Transportation Focuses on Intersections with Left-Turning Drivers 
Are certain intersections more dangerous than others if you are crossing the street in New York City? In other words, do some areas place you at greater risk of a pedestrian accident than others?  According to a recent article from Gothamist.com, there are a number of intersections in the city with left-turning drivers that make pedestrians feel particularly unsafe. Just a couple of months ago, the New York City Department of Transportation (DOT) released new safety measures for specific intersections in Manhattan designed to prevent pedestrian accidents. At the same time, however, there are still many intersections throughout the city that pose particular hazards to walkers.
For instance, two young brothers aged 9 and 14 years old recently shot a video that they entitled "Corner of Death."  What does the short film depict? It shows the brothers walking from their school to the downtown 6 train at the corner of Kenmare and Lafayette Streets, identifying the hazards they face from distracted drivers and other motorists who are turning left into the intersection.
In the intersection depicted in the short film, the brothers provided evidence that left turns are indeed more dangerous to walkers than are right turns. The DOT conducted a study that suggested as much, entitled "Don't Cut Corners." What has the DOT done to help improve pedestrian safety in this particular intersection? The article cites some of the following improvements:
12-second head start for pedestrians who are crossing the street;
Exchanging a green light for a flashing yellow light; and
Placing a delineator on Kenmare Street between the left and right lanes.
In the last five years alone, the intersection shown in the mini movie has been the site of 11 pedestrian accidents and one bicycle accident. In terms of NYC streets, the intersection is "in the top 1% of NYC intersections for left turn crashes."
Left-Hand Turn Accidents and Pedestrian Safety 
How common are pedestrian accidents involving left-hand turns? According to the article, the following statistics help to demonstrate just how common these collisions have become:
Pedestrians and cyclists are struck in left-turning accidents more than three times as often as those in right-turning accidents;
About 20% of all pedestrian and bicycle accidents involve left-turning vehicles, whereas only about 6% involve right-turning vehicles; and
What can we do to avoid accidents? As pedestrians, it is important to pay attention to your surroundings at all times. For drivers- always look out for pedestrians and remember that pedestrians have the right of way.