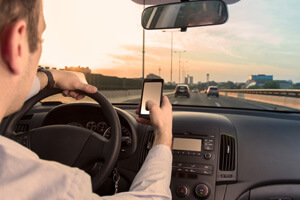 Textalyzer Technology to Prevent Distracted Driving
Most New Yorkers—and most Americans in general—have heard of a breathalyzer. It is a device that allows law enforcement officials to determine whether a driver has been drinking alcohol in excess of the legal limit and thus may be guilty of a DUI. There is a new technology available that takes its name from the breathalyzer, but it does not have any relation to technology that detects intoxicated driving. Instead, this new device, known as the "textalyzer," would allow law enforcement officials to determine whether a driver was engaged in certain distracted driving behaviors in the lead-up to a car accident, according to a recent report from ABC News.
A bill is pending before the New York legislature that "calls for textalyzer technology to be used in the field after a collision," according to the ABC News report. The bill was sponsored by New York State Senator Terrence Murphy, and it would allow law enforcement officials to determine whether a driver was texting while driving immediately before an accident occurs. In the event that the textalyzer shows that the driver was indeed texting in the moments before the collision, "he or she could risk losing their license."
According to Murphy's bill, "empowering our law enforcement with technology, which is able to immediately determine cell phone usage without an inquiry into the content, will allow enforcement of these laws after an accident while still protecting privacy rights." According to the New York State Governor's Traffic Safety Committee website, talking on a handheld cell phone is illegal in New York, as is "composing, sending, reading, accessing, browsing, transmitting, saving, or retrieving" an electronic data that could come from text messages, emails, or webpages.
While some privacy groups have voiced concerns about privacy intrusions connected to the textalyzer, those in favor of the device emphasize that it would not provide law enforcement officials with access to any private information such as contacts, photos, or messages. Instead, the device would only permit police officers to see if the phone had been in use in the minutes before a crash.
Distracted Driving Facts and Figures
What do you need to know about the dangers of distracted driving? According to statistics from Distraction.gov, the official U.S. government website for distracted driving, thousands of people die each year as a result of distracted driving. The following facts and figures highlight the dangers of distracted driving:
3,179 people sustained fatal injuries in 2014 from accidents involving distracted drivers.
431,000 people suffered serious injuries that same year in traffic collisions that involved distracted driving.
Every month, nearly 170 billion text messages are sent in the United States alone.
Distracted driving caused by cellphone use is increasing, and at any given moment during daylight hours in our country, around 660,000 drivers are using handheld smartphones to talk, to send electronic communications, or to browse web pages.
It takes around five seconds to send a text message, and at 55 miles per hour, sending a text message means that a driver will have his or her eyes off the road for the length of an entire football field.
If you or someone you love recently sustained injuries in an accident involving a distracted driver, contact an experienced car accident lawyer to learn more about your rights.