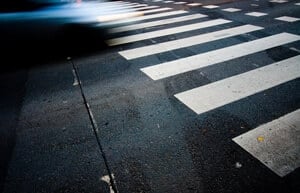 Hit-and-Run Accidents in Philadelphia
When you are walking in Philadelphia, are you at risk of sustaining serious personal injuries in a hit-and-run accident? According to an article in USA Today, over the last few years, hit-and-run crashes have been on the rise in a number of cities across the country, including Philadelphia. In a majority of hit-and-run accidents, the victims are pedestrians. Not surprisingly, in a high number of incidents, drinking and driving, or driving under the influence of alcohol (DUI) is a major contributing factor.
Alcohol was certainly involved in one recent hit-and-run car accident in North Philadelphia that resulted in the death of a 60-year-old pedestrian, according to a report from ABC News. While the driver attempted to speed off after striking the victim, two nearby witnesses were able to stop the car and pull the driver out from behind the wheel while waiting for law enforcement officials to arrive.
In another situation, the hit-and-run driver has yet to be caught. Just two days after the above fatal accident on Allegheny Avenue, another pedestrian was killed after being struck by a white Chevrolet Impala, according to a report from NBC News. The incident occurred shortly after 1:30 a.m. when the vehicle crashed into a 51-year-old pedestrian in Northeast Philadelphia. The victim died as a result of his injuries less than three hours later at nearby Aria Torresdale Hospital.
Getting the Facts About Hit-and-Run Accidents 
How often do hit-and-run accidents happen? Is there anything we can do to prevent them? According to a fact sheet from the AAA Foundation for Traffic Safety, the following figures show just how big of a problem hit-and-run collisions have become:
Around 1,500 people suffer fatal injuries each year in hit-and-run accidents, and that number has shown an increase in recent years;
Approximately 60% of all hit-and-run victims are pedestrians;
About 11% of all police reports involve a driver who fled the scene of an accident; and
A large number of deadly hit-and-run collisions happen between the hours of 9:00 p.m. and 3:00 a.m. (around 47%).
While pedestrians cannot change the behavior of careless or reckless drivers, it is important to follow pedestrian safety tips. A fact sheet from the Centers for Disease Control and Prevention (CDC) emphasizes the following accident prevention tips for pedestrians:
Cross at designated crosswalks;
Increase your visibility through clothing and by carrying a flashlight;
Walk on a sidewalk when possible; and
Do not engage in distracted walking, including talking or texting while walking.
If someone you love got hurt in a hit-and-run accident, contact an experienced car accident lawyer to determine your rights.