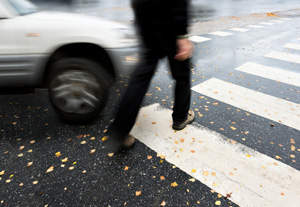 New York City Pedestrians Experience Series of Deadly Hit-and-Run Accidents 
As soon as the weather begins to get warmer toward the end of winter, more pedestrians and bicyclists in New York return to walking or biking to work. However, these activities can unfortunately sometimes result in deadly pedestrian accidents and injuries. According to a recent article in The New York Times, three people died and an additional two suffered serious injuries at the end of February in a string of hit-and-run accidents. Each of the incidents occurred separately, according to the article, and in each case the motorist who struck the pedestrians and cyclists fled the scene of the crash. All five collisions remain under investigation by law enforcement officials, but in a majority of the cases the responsible motorists have not been caught.
Back in 2014, Mayor Bill de Blasio's announced plans for "Vision Zero," which aimed to put an end to auto accident fatalities in the city by the year 2024. Since instituting this program, New Yorkers have in fact seen a decrease in fatal pedestrian collisions. However, that steady decline might not continue in 2016. Currently, police statistics already show at least 19 pedestrian fatalities in New York City. Of those deadly collisions, at least three involved cyclists. And in terms of non-fatal but serious injuries, New York already has more than 900 pedestrian accident injuries on the books this year.
Those figures do not include the five hit-and-run accidents that happened at the end of February. The victims ranged in age from 22 years old to 63 years old. Several of the victims were attempting to cross a street at the time of the collision.
Hit-and-Run Accident Statistics 
How often do hit-and-run accidents happen, and what can we do to prevent them? According to a report in USA Today, hit and runs have actually been on the rise in a number of major U.S. cities, so much so that some have described these collisions as a "plague." Here are some relevant statistics:
Between 2009 and 2011, the total number of hit-and-run accidents reported in the U.S. rose by 13.7%, according to the National Highway Traffic Safety Administration (NHTSA).
About 60% of all hit-and-run deaths involve pedestrians as the victims.
Alcohol use plays a major role in hit-and-run accidents. Not only can driving under the influence result in a deadly car accident, but an intoxicated pedestrian may be less alert when it comes to avoiding a collision.
Hit-and-run accidents are a serious problem, and they can result in serious and fatal injuries to New York City pedestrians. If you or someone you love suffered an injury in a hit-and-run accident, contact an experienced car accident lawyer to learn more about filing a claim for financial compensation.