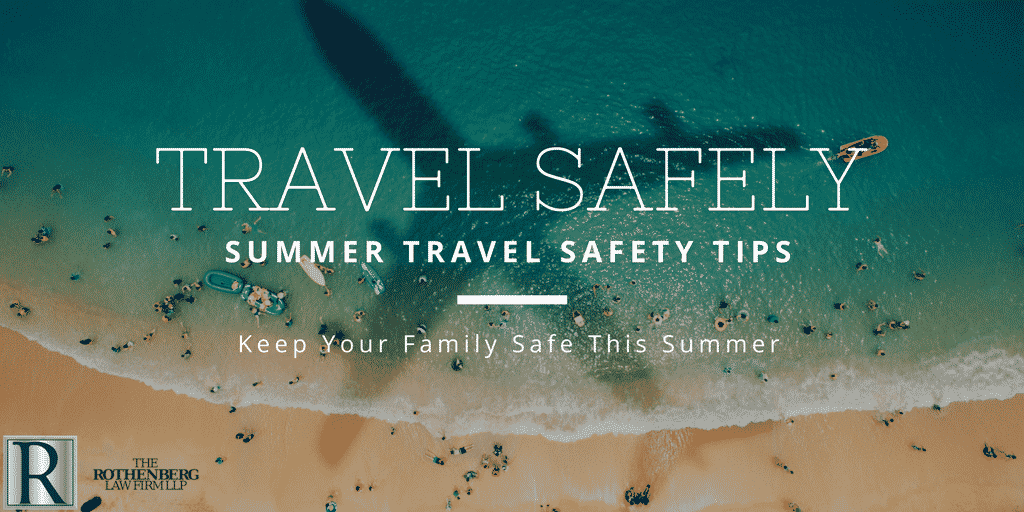 Record-Breaking Year of Summer Travel
According to a recent article in The New York Times, this season is "shaping up to be a record-breaking year for summer travel." Millions of Americans—approximately 234 million—are scheduled to travel on United States airlines during the months of June, July, and August. It is not just air travel. Roads and highways are expected to be more crowded than ever before. With increased auto travel, more car accidents are likely.
During these busy summer months of travel, what should you do to stay safe and avoid personal injuries? The article in The New York Times mentioned above, together with a safety tip sheet from the AAA Foundation for Traffic Safety, provide some important safety tips for travelers this summer.
Keep Your Family Safe This Summer: Travel Tips to Follow
If you are flying to your summer destination, and particularly if you are traveling outside the U.S., there are some important safety issues to consider when you are planning your trip:
Sign up to receive travel alerts from the U.S. State Department by enrolling in the Smart Traveler Enrollment Program (STEP);
Be aware of weather conditions, such as hurricane season or typhoon season (in the Atlantic, hurricane season runs from June through November), which you can do by following the National Oceanic and Atmospheric Administration (NOAA) Twitter account (@NHC_Atlantic and @NHC_Pacific), or by downloading an app from the Federal Emergency Management Agency (FEMA);
Take precautions anytime you are using a ride-sharing service, including making sure that ride-sharing is legal in your destination.
What if you are driving to your vacation destination on a road trip with friends or family? The AAA Foundation recommends the following safety tips:
Check your tire pressure to ensure that your tires are not underinflated or overinflated—two situations that can affect the way your vehicle handles on the road as well as its ability to brake;
Check the tread wear on your tires, and if it looks like you may need new tires, get them changed before your trip out of town;
Inspect your brakes for any signs of wear, as well as for fluid leaks, and if your brakes are worn out- get them fixed before starting out on your trip;
Clean corroded battery terminals so that you have "good electrical connections" on your drive;
If you have had your car battery for more than three years, get it tested to determine its remaining capacity;
Check your oil monthly and have your oil changed regularly;
Check other fluids in your vehicle, including the engine coolant, brake fluid, transmission fluid, and power steering fluid;
Replace your windshield wipers as needed, as well as your windshield washer fluid; and
Always keep an emergency kit in your car in the event of an emergency.
Wishing everyone safe travels!!
In the event that you or someone you love is injured in an accident, contact an experienced personal injury attorney to determine your rights.