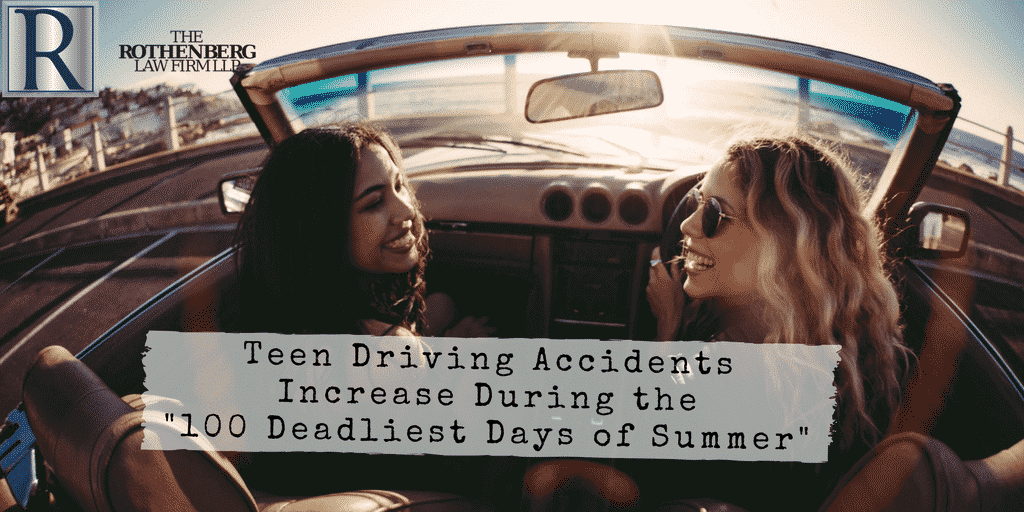 New Jersey Teen Drivers at Risk of Car Accident Injuries During the Summer
Now that school is out, your teenager probably plans to do more driving and to use the car for recreational trips. However, the rate of teenage motor vehicle crashes increases dramatically during the summer, and it is important for parents in New Jersey to take steps to ensure their kids' safety. According to a recent report from New Jersey 101.5, we are entering into what the AAA Foundation for Traffic Safety describes as "the 100 deadliest days of summer," which is a period in which "teen driver fatalities rise annually." As AAA highlights, "new teen drivers are three times more likely to be involved in a deadly crash."
Why do teen car accident fatalities rise during the summer? As the article explains, there are numerous factors that contribute to "the 100 deadliest days of summer," including but not limited to the following:
Teens are out of school and can spend more time driving;
Teens are on the road during the summer more often than during the months when school is in session; and
Teen drivers lack experience.
While teenagers in New Jersey are at heightened risk of a crash during the summer, AAA underscores that the spike in teen traffic fatalities is not just a problem for New Jersey residents. "Over the past five years, more than 1,600 people were killed in crashes involving inexperienced teen drivers during this deadly period."
What can parents do? The first and most important step is recognizing that more teen driving fatalities occur during the summer and that steps need to be taken to prevent car accidents. Parents can spend more time driving with their teens to get them acclimated to the road and to a variety of driving situations. In addition, while spending time in the car with their kids, parents can emphasize the dangers of distracted and/or aggressive driving.
Get the Facts About Teenage Car Accidents
What should parents know about teen driving and car accident risks? The AAA Foundation for Traffic Safety provides the following facts and figures:
Teen drivers' risk of a fatal car accident increases anytime other teenage passengers are in the vehicle;
When a 16-year-old or 17-year-old driver carries three or more passengers under the age of 21, the risk of a deadly accident quadruples;
When a 16-year-old or 17-year-old driver carries just one other passenger under the age of 21, the risk of being killed in a collision increases by 44%;
Presence of an adult aged 35 or older in a car driven by a teenager decreases the risk of a deadly accident by 62%;
Approximately 70% of teen drivers admit to talking on a cell phone while they were driving in the last 30 days;
More than 50% of teenage drivers surveyed by AAA admitted to texting while driving in the last 30 days;
About 80% of teen drivers believe their own distracted driving habits are not as dangerous as those of other teen drivers; and
94% of teen drivers keep their cell phones on when they are behind the wheel.
Teen driving safety is important.  Let's keep our children safe. Talk to your teenager before they get behind the wheel or in the car with another teen driver.