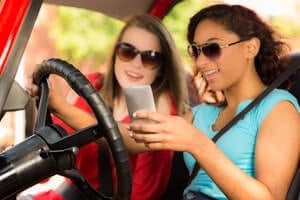 New Report Says Texting While Driving Impairs Our "Sixth Sense"
Most of us know that texting while driving is extremely dangerous, and laws in many states ban handheld use of cellphones precisely for this reason. A recent article in the Huffington Post suggests that texting while driving is actually more hazardous than other forms of distracted driving, and thus we need to do more to prevent it.
What is particularly dangerous about texting while driving, and how is it different from other forms of distracted driving? What makes texting so different from eating in the car or inputting information into a GPS system while you are on the road? According to the article, most distracted drivers other than those who text and drive, still retain a sort of "sixth sense" that allows them to correct errors they have made on the road due to distraction.
Indeed, the article cites a recent study published in Scientific Reports, which emphasizes that "a driver's mind can wander and his or her feelings may boil, but a sixth sense keeps a person safe at least in terms of veering off course." However, that finding does not hold true for the kind of distraction that texting produces. As such, the study explains, "what makes texting so dangerous is that it wreaks havoc onto this sixth sense."
To conduct research for the study, Ioannis Pavlidis, a University of Houston computer science professor, distracted 59 participants in varying ways. For example, some of the participants were asked questions that would produce cognitive distractions, "meant to induce a state of absent-mindedness," while others "were asked to operate the driving simulator while texting a message with one hand." What did Pavlidis find? Texting produces physical distractions which may be the most likely to lead to a serious auto accident.
Get the Facts: Texting While Driving
According to a fact sheet from Distraction.gov, distracted driving results in thousands of serious auto accidents—including thousands of fatalities—every year. The following are some of the forms of distraction that can lead drivers to take their hands and/or eyes off the road:
Texting;
Eating;
Grooming;
Reading;
Using a GPS system;
Watching a video; and
Adjusting a radio or MP3 player.
How often do distractions result in car accidents? According to the fact sheet, the following figures show the severity of texting while driving:
3,179 people died in auto accidents involving a distracted driver in 2014, while another 431,000 sustained injuries;
About 10% of all drivers between the ages of 15 to 19 who were involved in deadly traffic collisions were distracted when the accident happened; and
At any point of the day during daylight hours, 660,000 drivers on U.S. roads are either talking on cell phones, texting, or using smartphones in another manner, and that number continues to increase.
The facts and finding are obvious - texting and driving is a serious danger. Never text and drive and if you or someone you love sustained injuries in a car crash caused by a distracted driver, contact an experienced auto accident lawyer to learn more about your rights.