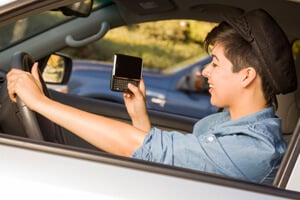 Distracted Driving to Become a Public Safety Priority
Distracted driving causes car accidents that frequently result in severe personal injury. New Jersey is taking steps to put an end to some of these distractions. Last June, new distracted driving legislation "established a graduated penalty structure for repeat offenders who violate the state's hands-free cellphone law more than once in a 10-year period," according to a press release in NJ Spotlight written by New Jersey State Senator Richard Codey.
How does it work? The first offense carries a $200 to $400 fine. If you're caught a second time, the fine increases to $400 to $600, and up to $600 to $800, plus a 90-day driver's license suspension if you violate the law three or more times. In connection with the new penalty structure, Codey has emphasized that he is hoping to make texting and driving a serious issue throughout the state.
In an age where Americans are constantly connected through smartphone use, it is important to remember that cellphones can cause serious distractions for drivers, and those distractions can lead to severe injuries and even deaths on the roadways. According to Codey, "handheld electronic devices, including cellphones, are especially dangerous while driving, because they cause visual, manual, and cognitive distractions." Indeed, using them can "cause drivers to take their eyes off the road, their hands off the wheel, and their minds off driving."
The risks are even higher for teen drivers. Codey emphasized that "young people are more likely to use electronic devices," because they "grew up with them and have become accustomed to them—maybe too accustomed when it comes to their use while driving." At the same time, Codey acknowledges that distracted driving occurs in every age group. As such, he stresses that New Jersey is going to be "cracking down on those who flaunt the law and cause accidents."
How will this happen? In addition to the increased fines for hand-held cellphone use behind the wheel, New Jersey residents will be subject to another "new law that gives prosecutors the authority to charge motorists with assault or vehicular homicide if the defendant was operating a handheld wireless phone." Moreover, an additional law aimed at awareness will provide road signs that remind drivers that it is illegal to use a handheld cell phone while they are driving. Codey is also sponsoring legislation that would make it illegal to use a handheld cell phone at any moment behind the wheel—whether while driving or while stuck in stand-still traffic at a red light.
Get the Facts About Texting While Driving
According to the National Highway Traffic Safety Administration (NHTSA), distracted driving led to 18 percent of all roadway fatalities in 2010, with more than 3,000 fatalities and more than 400,000 injuries. In 2011, those numbers remained steady, with 3,300 deaths and nearly 400,000 injuries. U.S. Transportation Secretary Ray LaHood has described distracted driving as "a serious and deadly epidemic on America's roadways."
Indeed, NHTSA recently released a survey that found "660,000 drivers using cell phones or manipulating electronic devices while driving at any given daylight moment." LaHood explained that a driver's decision to simply power down a cell phone while on the road "can save lives—maybe even your own."
Do most Americans understand the urgency of distracted driving awareness? Based on data from NHTSA's 2012 Survey on Distracted Driving Attitudes and Behaviors, 74 percent of Americans surveyed supported a ban on cell phone use while behind the wheel, and an overwhelming 94 percent supported a ban on texting while driving. Americans also tended to agree that fines for cellphone-related offenses should be quite high—most said "at least $200."
What can you do to prevent distracted driving? NHTSA provides some important tips for drivers:
Turn your cell phone off and keep it out of reach before you get behind the wheel.
If you have a teen driver, talk to him or her about the dangers of distracted driving, and model this behavior when you are the driver.
If you're a passenger in a vehicle where the driver begins using his or her phone, speak up about the dangers of distracted driving. As a passenger, you can make a phone call for the driver while he or she focuses on the road.
Keep your seatbelt fastened.
If you or a loved one has suffered an injury in a crash caused by a distracted driver, you should speak to an experienced New Jersey auto accident lawyer about filing a claim for financial compensation.