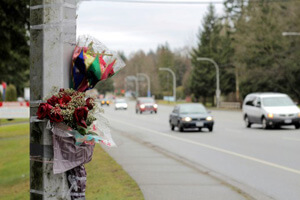 A report released by the National Highway Traffic Safety Administration (NHTSA) this past December indicates that traffic-related fatalities declined by nearly two percent in 2011.  Strikingly, this is the lowest level of roadway deaths since 1949, and a 1.9 percent decrease from 2010 statistics.  Recent years have shown steadily declining numbers of traffic-related deaths, and this trend is even more prominent in the 2011 numbers.  In fact, since 2005, reported statistics show a 26 percent overall decrease in traffic fatalities.      U.S. Transportation Secretary Ray LaHood stated that "(a)s we look to the future, it will be more important than ever to build on this progress by continuing to tackle head-on issues like seat belt use, drunk driving, and driver distraction."
A Brief History of Traffic-Fatality Statistics
According to CBS News, the recent report reflects a promising trend in fewer traffic-related deaths, even though the number of fatalities may still seem high.  In 2010, the NHTSA reported that 32,885 died on America's roads, a number that, at the time, reflected a marked decline from years past.  In 2011, the NHTSA reported a drop to 32,267 deaths that occurred on the highways, compared to 30,246 deaths in 1949, the year with the fewest fatalities to date.
You might wonder if a comparison to traffic fatalities in 1949 might be a bit problematic, since far fewer drivers were on the roads in the mid-20th century.  CBS News suggests that we should look to the number of vehicle miles traveled per year both now and then, and compare fatality percentages.  In 2011, American roadways saw 2,930,654,000,000,000 vehicle miles traveled!  Compared to the number of fatalities in the NHTSA report, this means that there were only about 1.1 deaths for every 100,000,000 vehicle miles traveled in 2011.  This number suggests that 2011 is actually the year with the fewest road-related deaths to date, as 1949 saw 424,461,000,000 vehicle miles traveled, for an average of 7.3 deaths for every 100,000,000.  Essentially, the NHTSA numbers suggest that road travel is the safest it has ever been in the United States.
Notable Statistics—Safety is Improving
The NHTSA identified a number of specific areas in which safety measures are working.  For example, occupants of passenger cars and lights trucks (which include SUVs, minivans, and pickups), are remarkably safer, with 4.6 percent fewer fatalities in 2011.  Deaths from drunk driving incidents also decreased by 2.5 percent from 10,136 victims in 2010 to 9,878 in 2011.
David Strickland, an NHTSA Administrator, attributes increases in safety to motorist behavior, vehicle safety advances, and certain NHTSA deterrence programs like "Click It or Ticket" and "Drive Sober or Get Pulled Over."  Strickland is pleased with the recent safety statistics, but he also emphasizes the need to continue addressing issues that still claim more than 30,000 lives on our roads.
Safety Has Actually Declined in Some Cases
While the overall statistics paint a promising picture for American highway safety, the NHTSA report also contained some startling figures in certain categories of Americans who take to the roads.  Just after the NHTSA report was released, The New York Times addressed a national briefing on two categories in which fatalities noticeably increased: occupants of large trucks and bicyclists on the roadways.  Fatalities among large truck occupants actually increased by 20 percent in 2011, and by 8.7 percent for pedal cyclists.  Moreover, pedestrian fatalities rose by 3 percent, and motorcyclist deaths by 2.1 percent.
If you have been injured in an auto accident or have been affected by a traffic-related fatality, we can help with your options. Contact us today.