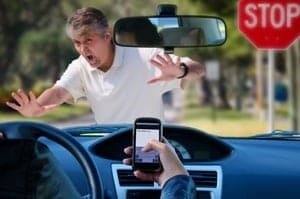 Rally for Pedestrian Safety in New York
You might have read news reports about the rise in fatal pedestrian accidents in and around New York City. According to a recent report from CBS New York, the families of victims who were killed in collisions gathered at City Hall Park to remember those they have lost, as well as urge city officials and lawmakers to take steps to increase pedestrian safety in the city. Many believe that pedestrians in New York City are at particular risk of being struck and killed by automobiles driven by aggressive or distracted drivers.
According to one New Yorker who lost her 22-year-old son last July in a deadly pedestrian accident that occurred near 46th Street and the West Side Highway, "this is an epidemic in New York City." Referring to the rash of fatal pedestrian accidents, she went on to say, "drivers have got to yield to the right of way to pedestrians and pedestrians really need to be careful here . . . . It's a crazy town." Attendees at the rally emphasized that reckless driving needs to be taken more seriously in New York City, especially in areas that are heavy with pedestrians.
As the article clarifies, these family members are not mistaken in arguing that there are more pedestrian accidents and fatalities occurring in the city than in recent years. To be sure, "as of late last month, new data showed deaths on city streets and highways were up for the first time in three years." New York City officials are not taking the increase in pedestrian deaths lightly. A number of councilmembers and other officials attended the pedestrian safety rally, including City Council Transportation Committee Chairman Ydanis Rodriguez, Councilwoman Margaret Chin, Councilman Brad Lander, and state Senator Brad Hoylman. The families of pedestrian accident victims hope that city officials will begin taking steps to reduce the rate of fatal collisions across Manhattan.
Pedestrian Safety Tips in New York City 
What can pedestrians do in the meantime to stay safe while walking in Manhattan and other boroughs of NYC? A safety tip sheet from the Pedestrian and Bicycle Information Center recommends that pedestrians pay attention to three different issues while walking in urban areas.
First, it is important to make yourself visible to any vehicles on the road, whether it is daytime or nighttime. The Center recommends doing the following to ensure visibility:
Always wear brightly colored clothes or light colored clothes;
Wear reflective materials if possible;
If walking at night, carry a flashlight;
Only cross the street in well-lit areas; and
Stay away from obstacles before you cross the street (such as parked cars or buses) so that drivers can see you.
Next, take steps to avoid dangerous pedestrian behaviors, including:
Stay sober while walking;
Walk on the sidewalk when one is available;
If you cannot walk on a sidewalk, you should walk facing traffic;
Make eye contact with drivers;
Do not assume a driver will see you;
Do not rely only on pedestrian signals (as a driver may disobey these); and
Pay attention to engine noises or backup lights that could indicate a vehicle is backing up.
Finally, be particularly careful whenever you cross a street:
Only cross at marked crosswalks (where they are available);
If no crosswalks, cross at intersections;
Obey traffic signals for pedestrians;
Look to the left, right, and left again before you cross the street;
Keep an eye out for vehicles that are turning; and
Do not wear headphones or talk on your cellphone while you are crossing the street.
If you or someone you love was injured in a pedestrian accident, contact a car accident lawyer to discuss your case.